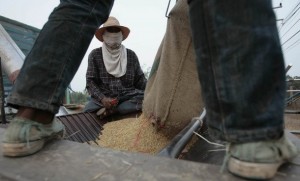 The Nation (Bangkok) | 22 June 2009
By Petchanet Pratruangkrai
Thai rice farmers and exporters have strongly opposed the Gulf Cooperation Council (GCC)'s interest in investing in the Thai farming sector, saying it would cause huge losses for local farmers.
More than 40 million Thais in the farm sector could lose their jobs if the investment proceeds, they said, adding that Thailand could lose traditional knowledge and local wisdom, and see its national security jeopardised if the government allowed foreign investors to enter this sensitive sector.
"The government must not allow foreign investors into our farm sector. This would be tantamount to selling part of the country to foreigners, as the country's economy is based on its agriculture sector," said Thai Rice Farmers Association president Pradit Boonchuey.
Gulf states Bahrain, Kuwait, Oman, Qatar, Saudi Arabia and the United Arab Emirates have expressed interest in farming crops and raising livestock in Thailand to secure their food security.
The GCC countries have asked for details of the Thai government's policy on the possibility of opening the agriculture sector to foreigners. Last year, during the Samak Sundaravej government, Middle Eastern investors originally invited by ousted prime minister Thaksin Shinawatra faced strong objections from many organisations after eying possible entry into the local agriculture market.
Prasit said the farm sector, in particular rice farming, must be preserved exclusively for Thais.
"Even without [foreign] competitors, Thai farmers have suffered enough. Thai farmers could be totally destroyed by foreign investors if the government allowed them to reap the benefits of investing in the Kingdom," he said.
Prasit raised the example of traditional retailers, who suffered after the Thaksin government allowed foreign retail giants to do business here.
A rice-exporting source expressed opposition to allowing foreign investors into the farm sector.
The source said Thailand does not need technology transfers from the Middle East, or anywhere else, as the Kingdom already has strong know-how and a highly developed rice sector.
Siripol Yodmuangchroen, permanent secretary of the Commerce Ministry, said the government should focus on promoting industrial sector investment, and leave the agricultural sector alone.
"Personally, I believe Thai farmers and Thai enterprises have knowledge in agriculture, and lack only technological support. The government should promote investment in other businesses, as many industries are calling for foreign direct investment," he said.