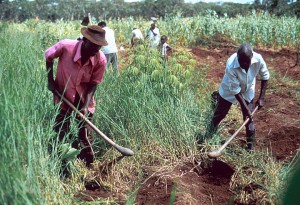 Reuters | 12 June 2009
Cape Town, June 12 - Companies from the United States and the United Arab Emirates are interested in establishing large farms in Zambia to grow sugar and grains, the southern African country's agriculture minister said on Friday.
Although a growing number of such land investments elsewhere have proved controversial, Agriculture Minister Brian Chituwo told Reuters Zambia had so much land available there would not be opposition.
He said a U.S. company had offered to invest as much as $200 million in sugar cane production to make ethanol, involving small-scale farmers, but was waiting for proper policies to be put in place.
Chituwo added Zambia had 115,000 hectares of prime land suitable for sugar cane production.
He said a Dubai company was keen to grow rice or wheat.
"They are looking at 200,000 hectares, but we have 900,000 hectares of prime land available so the issue of land really should not be a problem. It is just a question of the mechanics of implementing this," he told Reuters on the sidelines of the World Economic Forum on Africa in Cape Town.
He said Zambia's lack of exchange controls and the fact that it had lots of land available made it an ideal place for agricultural investment.
Zambia is already benefiting from commercial farmers who had moved from South Africa and Zimbabwe, as well as a small number of farmers from China, he said.
"We are utilising only an estimated 14 percent of our land. We have well over 30 million hectares of land that is begging to be utilised," he said.
He said Zambia would push for core ventures to be developed in partnership with small-scale farmers to avoid resentment.
"So far there hasn't been expression of that resentment. If anything we are being asked 'You are too slow. When are these investors coming?'," he said.
The minister earlier said Zambia estimated it could export up to 200,000 tonnes of maize and 80,000 tonnes of wheat for the 2008/09 season after bumper harvests.
Chituwo said Zambia expects maize production for the season to reach 1.9 million tonnes, with 1.3 million tonnes used for the country's consumption, 200,000 tonnes for exports and the balance for animal feeds and brewing.