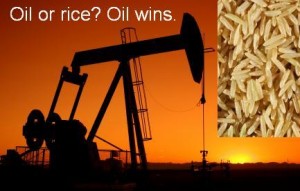 Market Research Analyst | May 12, 2008
Saudi government moves agriculture abroad by investing in farming of staple commodities in Thailand, Brazil, India and other countries. This move represents a classic case of "absolute advantage" economy. At the current high energy prices it makes all sense for Saudis to get rid of heavily subsidized agriculture sector burdened by huge costs of desalinated water and to focus investments on oil and gas production. Saudi Arabia plans to increase wheat and rice exports. This is the first step in abandoning "self-sustainability" program which lasted for 30 years and completely failed to deliver agriculture products at costs approaching market prices. Saudi Arabia is already the world's sixth largest importer of rice.
While the decision to abandon domestic farming has been ripening for a long time, it has been hastened by India's ban on exports of non-basmati rice. In 2007 Saudi Arabia imported about 1 million tonnes of rice.
By investing in farming abroad Saudi Arabia strives to keep control over security of its food supplies, quite expected step for country obsessed with national security (for more information see
Saudi Arabia Homeland Security Market Outlook - 2009-2018
).