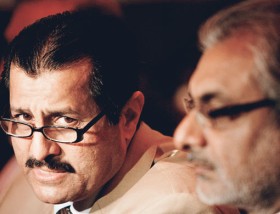 Gulf News | March 27, 2009
By Ashfaq Ahmad, Chief Reporter
Dubai: Pakistan has offered UAE investors an opportunity to invest in corporate farming projects back home as a means to secure the UAE's food supplies.
"The UAE is looking towards Pakistan for food security and we have offered projects of corporate farming to investors from the UAE," Dr Mirza Ishtiaq Baig, Advisor to the Pakistani Prime Minister, said.
He added that Pakistan would offer projects to ensure enough supply of rice, grains, wheat and dairy products to the UAE.
Baig, who led a high profile delegation of Pakistan Federation of Chambers of Commerce and Industry (FPCCI) to the UAE, said that the issue of farming projects came up during a meeting with Shaikha Lubna Al Qasimi, UAE Minister of Foreign Trade.
"Shaikha Lubna has expressed some concerns regarding investment issues in Pakistan, which will be addressed immediately," Baig added.
He said Pakistan was seeking UAE investments in the fields of textile, livestock, dairy products, renewable energy and infrastructure development.
The 30-member delegation held a series of meetings during their four-day visit with officials from leading public and private organisations.
"The meetings have been successful as we have openly discussed issues to enhance trade and investment projects between the two countries.
The delegates faced tough questions concerning the safety of investment in Pakistan. But Baig asserted that "investment in Pakistan is safe".
At the conclusion of the visit yesterday, Baig told a press conference that Pakistan has requested the UAE government to create a stimulus package to help struggling Pakistani property developers, who have investments of about Dh8.7 billion in the UAE.
"We have requested Shaikha Lubna to give some stimulus package to help Pakistani investors, who have burnt their fingers in the property sector due to the economic recession," said
The bilateral trade between Pakistan and the UAE has increased by 119 per cent during the last eight years to $4.15 billion in 2007.
Baig said the FPCCI would help construct a new Pakistani Trade centre on a piece of land donated by the Sharjah government about five years ago. "I feel sorry that the project never took off despite the land being donated by the Sharjah government," he said.
"The construction on trade centre never started because of clashes of interests and lack of cooperation between the Pakistani Consulate General and the Pakistani business community," Abdul Sattar Pardesi, a Dubai businessman, said.