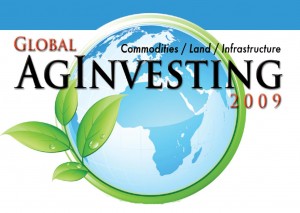 Soyatech | May 11, 2009
Presenters include experts on investment opportunities in commodities, land and infrastructure around the world
Soyatech, LLC, in partnership with the Investment Management Institute (IMI) and HighQuest Partners, has announced the list of speakers for the upcoming Global AgInvesting 2009 Conference. Aimed at public and private market investors, this conference will explore opportunities for investments in agricultural lands, commodities and infrastructure. Global AgInvesting 2009 will take place June 22-23 at the Marriott Eastside Hotel in New York City.
The speaker roster includes some of the world's foremost experts in strategies for agricultural investments around the globe. The program will address the outlook for investment in North and South America, Australia, China, Eastern Europe, Southeast Asia and sub-Saharan Africa. In addition, speakers with deep global expertise in various crops will address the crucial drivers of demand, supply and pricing over the next decade, with a focus on the need for additional production.
Global AgInvesting 2009 will bring together top players in the global ag industry and global ag investing, including Adecoagro, Altima Partners, Bayer CropScience, Brazil AgroLogic, COSAN S.A., DuPont/Pioneer Hi-Bred, Emergent Asset Management, George Washington University, Global Ag Investments, Hancock Agricultural Investment Group, International Finance Corporation, Macquarie Global Investments, OECD, Rabobank, Radar Propriedades Agricolas S.A., Quifel Natural Resources, TIAA-CREF and The World Bank.
"Our prestigious speaker roster reflects the conference's focus on helping potential investors understand critical aspects of the complex global agricultural system. These presenters represent leading thinkers from all over the world, who will, together, lead participants in exploring this multi-faceted equation," said Chris Erickson, CEO of Soyatech.
Speakers include some of world's foremost representatives of the ag industry, capital markets, academia and the public sector. Collectively, their firms own and/or manage over 11 million acres of productive farmland worldwide. They include:
• Rajesh Behal, Principal Investment Officer, Global Agribusiness Department, International Finance Corporation
• Javier Blas, Commodities Correspondent, Financial Times
• Alan Boyce, President and Chairman, Adecoagro, which owns and manages 670,000 acres in Argentina, Brazil and Uruguay, producing grains, rice, oilseeds, dairy products, sugar, ethanol, coffee, cotton and beef
• Joe Carvin, Altima Partners, whose $625 million Altima One World Agriculture Fund is among the leading global ag land funds
• Olivier Combastet, CEO Pergam Finance and Chairman of the Board, Campos Orientales. Paris-based Pergam was established in 2006 and has since acquired over 100,000 acres in Uruguay and Argentina
• Jeff Conrad, CEO, Hancock Agricultural Investment Group, the largest U.S. institutional farmland manager with over $1 billion of directly managed agricultural investments comprising over 145,000 acres in the U.S., Australia and Canada
• Klaus Denninger, Lead Economist, Development Research Group, The World Bank
• Philippe de Lapérouse, Managing Director, Global Food Agribusiness and Biofuels Practice, HighQuest Partners, where he advises investors and operating companies across the ag value chain
• Steve Elmore, Senior Agricultural Economist, DuPont/Pioneer H-Bred, the leading supplier of seed to the global corn market
• Tim Hornibrook, Division Director, Macquarie Agricultural Funds Management, which includes 7.5 million acres of land purchased, developed and owned by Macquarie for agribusiness investments across sheep and cattle production, dairy, horticulture, viticulture, forestry, grains and oilseeds
• Wayne Jones, Head of Agri-food Trade and Markets Division, OECD, where he is responsible for the annual OECD/FAO agricultural outlook
• Rui Laurentino, CEO, Quifel Natural Resources, which manages 370,000 acres in Brazil, Angola, Mozambique, and Sierra Leone
• Luis Felipe Jansen de Mello, Head of Investor Relations, COSAN S.A., the largest producer and processor of sugarcane worldwide with over 1.5 million acres under cultivation
• Jose Minaya, Director, Agriculture, Global Private Markets, TIAA-CREF, one of the largest institutional players in farmland investing globally
• Ricardo Dell Aquila Mussa, CEO, RADAR Propriedades Agricolas S.A., one of the largest agricultural landholders in Brazil
• Susan Payne, CEO, Emergent Asset Management / Emergent African Agricultural Land Fund, which owns and manages 320,000 acres across Sub-Saharan Africa
For more information about the conference or to register, visit www.soyatechevents.com or call 800-424-SOYA.