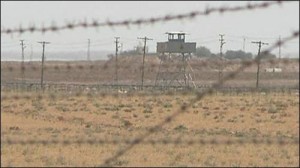 Financial Times | June 2 2009
By Delphine Strauss in Sanliurfa
Hostility to foreign investment in a sensitive border area has forced the Turkish government to shelve plans to turn a minefield along its frontier with Syria into organic farmland.
After a week of wrangling in parliament, ministers have conceded they would have to rethink draft legislation that would have allowed an international company to lease the 510km strip for 49 years as payment for clearing thousands of landmines that still claim casualties and have made it unusable since the 1950s.
Deniz Baykal, leader of the CHP opposition party, had threatened to challenge the legislation in the constitutional court if it was passed, saying the land should be used "for the unity of the country".
Turkish media linked the issue to the growing international debate about foreign investors buying land in poorer countries to secure food supplies.
But the issue reflects a nationalist streak in Turkish politics that also endangers efforts to make progress on issues such as Kurdish identity and reconciliation with Cypriots and Armenians. "The most crucial gap in this country is the one between nationalists and globalists," wrote Mustafa Akyol, a political commentator.
Suspicion that an Israeli company would win the contract made the proposal especially unpopular – reflecting widespread prejudice and the sensitivities of the area's part-Arab people.
But Recep Tayyip Erdogan, prime minister, said it was the same "fascist mindset" that had led Turkey to expel ethnic minorities in the past – a revolutionary statement for a Turkish prime minister. More prosaically, he argued: "Money has no religion, nation or ethnicity."
Turkey faces a 2014 deadline to clear more than 600,000 mines from the 216sq km area, and had hoped its agricultural value would help fund the project.
The irony is that, with or without the mine law, it is a struggle to attract investment to a poor area where many do not complete school, security is fragile and markets undeveloped.
Diplomats and dignitaries last week inaugurated a European Union-funded industrial zone to be built in Sanliurfa, a province adjoining Syria – but there is so far a lack of tenants.
One European diplomat said agricultural investors were deterred by relatively low margins for the cotton and wheat crops under cultivation, and by the expense of flying higher-margin fresh produce to market.
Sanliurfa businessmen who have profited from irrigation projects say farming is the region's best prospect but admit that foreign investment amounts to one tomato paste plant.
Landowners argue over the value of the border land. Several would be willing to sell to foreigners, but most agree the mined area should stay in Turkish hands, not least because of the original owners' claims.
But if the government pays, they would be happy for outsiders to help clear the mines. Ibrahim Halil Polat of the local chamber of commerce, asked: "How else are you going to clear it – send the donkeys over?"