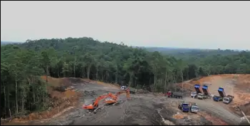 Photo: NWO
LDPI | 25 September 2023
Call for papers - Global land grabbing conference
On its 10th anniversary, the
Land Deal Politics Initiative
(LDPI) is collaborating with several leading research hubs in organizing an International Conference on Global Land Grabbing on 19-21 March 2024 in Bogota, Colombia which will include academic researchers, activists and policymakers from across the world
LDPI invites academic researchers, policy experts, activists in the Global North and South to submit abstracts for the conference.
How to submit
Your application should include:
an 350-word abstract
author's bio of 100 words
the title, keywords and authors' institutional affiliation
Deadline for sbumssions 31 October 2023. For selected abstracts, the deadline for full conference papers is 15 February 2023.
Themes

The proposed themes include:
What happened to failed large-scale land grabs?
Multiple, invisible domestic land grabs
The implications for labour
The role of science
Processes of financialization
Green energy and climate change
Green grabbing, neoliberal conservation and market-based instruments
Growth as extra-territorial development
Land grabs and environmental change
The national political context of land grabbing
Violence, from the everyday to the spectacular
Resistance and mobilization
Policy and political change
Methodology
Towards theorization
Global South and Global North

The aim is to publish the papers online beginning mid-February 2024 in the LDPI Working Paper series as a way to share them widely in the build-up to and during the March 2024 international conference in Bogota. Having widely circulating papers will facilitate vibrant, open conversations.
Full details of the call including information about LDPI is available
here
.