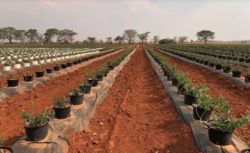 Blueberry farm in Zimbabwe of partner to Costa Group.
Australian Financial Review | 22 September 2023
Paine Schwartz wins over Costa board with cut-price $1.5b offer

by Simon Evans
The board of Australia's largest fruit and vegetable company, Costa Group, has agreed to a cut-price $1.5 billion takeover offer from a consortium headed by private equity firm Paine Schwartz Partners.
The Costa board said the certainty of a cash offer in an uncertain operating environment meant the reduced offer of $3.20 a share was the best outcome for shareholders in the absence of any higher offer. The acceptance was first flagged by The Australian Financial Review's Street Talk column on Thursday.
Costa Group is a big processor of mushrooms, avocados, tomatoes, berries and citrus fruit.
The New York-headquartered buyout on September 18 sliced $100 million from an original offer made in May. It was cut from the original $3.50 a share price to $3.20 a share after two months of due diligence and accounting for Costa's weaker profit outlook and a $30 million hit from adverse weather conditions.
Costa is a large grower of berries, mushrooms, citrus fruit, tomatoes and avocados. It operates 7200 hectares of farmland in Australia, has facilities in Morocco and China and has been listed on the ASX since 2015. Shares were as high as $6.90 in late 2018.
Costa chairman Neil Chatfield said on Friday that the board still believed the company had solid fundamentals, but the cash offer had outweighed those longer-term considerations.
"While the Costa board has confidence in the long-term fundamentals of the company, the scheme provides certainty for shareholders in an uncertain operating environment by delivering cash proceeds to shareholders at an attractive premium," he said.
Mr Chatfield said the board had weighed up many factors. "This included a number of different valuation scenarios, potential risks relating to the future execution of Costa's business growth plan, and the price at which Costa shares could trade over the medium to longer term if it continues as an independent listed company," he added.
The deal values Costa's equity at $1.5 billion. Costa shareholders will vote on the deal at a scheme meeting. An independent expert will be appointed to assess whether the offer is fair and reasonable.
Paine, which floated Costa in 2015, acquired a 13.8 per cent stake in Costa last October at $2.60 a share, and began discussions in April about a takeover offer in the range of $3.20 to $3.30 a share. It followed with a non-binding proposal at $3.50 a share in May that valued Costa at $1.6 billion.
The Costa board said on Friday the agreed offer of $3.20 was at a 43 per cent premium to the closing share price on October 25, 2022, just before Paine Schwartz bought the 13.8 per cent stake in the company.
Paine Schwartz specialises in agribusiness and food chain buyouts. The consortium also includes Californian berry group Driscoll's Inc and the British Columbian Investment Management Corp.
At its interim results on August 31, Costa said a late start to the citrus season meant most earnings would fall into the second half of the year. It forecast the crop would suffer a $30 million hit from weather-related issues, with the fruit size below expectations.
Costa's net profit fell to $37.8 million from $40.3 million in the year-earlier period, while earnings before interest, tax, depreciation and amortisation rose to $150.2 million from the $140.1 million it posted a year earlier.
Revenue rose more than $60 million to $770.7 million, but Costa faced higher packaging, fertiliser and labour costs. But there had been a "steady pricing recovery" in avocados compared with the previous year, when an avocado glut across the industry had hurt returns.