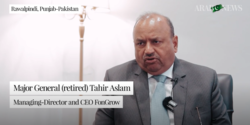 Arab News | 22 September 2023
Pakistan seeks $6bn for corporate farming from Saudi Arabia, other Gulf nations by 2028

by AAMIR SAEED

ISLAMABAD: Pakistan is seeking up to $6 billion investment from Saudi Arabia, the United Arab Emirates (UAE), Qatar and Bahrain over the next three to five years for corporate farming, with the aim of cultivating 1.5 million acres of previously unfarmed land and mechanizing existing 50 million acres of agricultural lands across the country, the CEO of the company spearheading the initiative has said.
The development comes months after Pakistan set up a Special Investment Facilitation Council (SIFC) — a civil-military hybrid forum — to attract foreign funding in agriculture, mining, information technology, defense production and energy as the South Asian country deals with a balance of payments crisis and requires billions of dollars in foreign exchange to finance its trade deficit and repay its international debts in the current financial year.
Earlier this month, caretaker Prime Minister Anwaar-ul-Haq Kakar said Saudi Arabia and the UAE would invest up to $25 billion each in Pakistan over the next five years in the mining, agriculture and information technology sectors.
Initiatives in the agriculture sector under SIFC are being administered by FonGrow, which is part of the Fauji Foundation investment group run by former Pakistani military officers.
"We have estimated about $5-6 billion [investment from Gulf nations] for initial three to five years," Major General (retired) Tahir Aslam, FonGrow's managing-director and chief executive officer, told Arab News in an interview.
He declined to share details about the breakdown of the investment from each individual country.
The CEO said the company was engaging with several Saudi companies like Al-Dahara, Saleh and Al-Khorayef to attract investment in the corporate farming sector. He did on elaborate on progress made so far in the discussions.
Aslam said his company was also working on different investment models with the Saudi and UAE companies for corporate farming, including joint ventures.
"If they want to make direct investment, it is a corporate model. So, they will take an equal number of stakes in the company, and they get an equal number of positions in the governance [of the company]. So, it is going to be a joint company."
About strategy and targets to mechanize farming, Aslam said FonGrow was working on a two-pronged approach to bring up to 1.5 million acres of new arable land under cultivation and modernize 50 plus million acres of land already being farmed.
This, he said, would require about "$25 million per each thousand acres and other for machinery, and setting up of infrastructure for value addition."
FonGrow is aiming to set up corporate farms on over 100,000 acres in the next 5-7 years. The first such farm had already been established on over 5,000 acres of land in Khanewal, he said.
"Next year, we will be starting our second farm on over 10,000 acres and we hope to develop the capacity to be able to develop 20 to 25 thousand acres every year," Aslam said. "Mainly, we are starting in Punjab and then we are looking for lands. Wherever we get suitable lands, we will go to all the provinces."
To a question about the source of capital to develop the land, the official said: "We have no issue of rupee capital availability for our project because ultimately it will bring returns to Fauji Foundation."
"There is a small challenge that we are facing basically, which is of foreign exchange because the irrigation systems and the tractors and harvesters that we have to import, they need foreign exchange."
Aslam said Pakistan's corporate farming model envisioned that sixty percent of the crops would contribute to the country's food security, and the remaining 40 percent would be exported mainly to Gulf countries to earn foreign exchange.
He said Pakistan had received a first export order of Fauji cereal products from a Gulf nation, though he declined to name the country:
"It is a starting quantum [that] is about $25 million worth of products in one year. But I think as we break more grounds this will continue to increase in the coming years."
Responding to concerns about the army's involvement in economic projects in Pakistan, he said the military was only contributing where requested by the civilian government.
"They [foreign countries] wanted an organization which provides continuity or security of their investment, that was the reason the army joined in and then the army also said we have such a large [investment] potential available," the FonGrow CEO said.
"In the past also, the army has very willingly contributed to projects of nation-building and national importance … Army is playing its part, but no soldiers are involved."