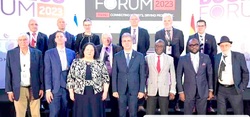 Graphic Business | 17 July 2023
'Israel has great business opportunities for Ghanaians'

by Kwame Larweh
The leader of the Israel Economic and Trade Mission to Ghana, Mr Yaniv Tessel, has said Israeli companies are ready to foster stronger ties and create opportunities for Ghanaian businesses for accelerated economic growth and development.
He said the business interactions between the two nations could catalyse economic growth for their mutual benefit.
"Israel companies are already undertaking projects such as the Sunyani Water Project, facilitating the agro industry, cyber security and other security issues in the country," he remarked.
Mr Tessel made these observations at the first Israel-Ghana Business Forum held at the Kempinski Gold Coast City Hotel in Accra last Tuesday.
Delegations from eight Israeli companies, namely LR Group, Dekel Oil, Negev Mining, Data Harbor, Lesico Group, Netafim, A.D. CON Ltd and Migdal Limited took time to expatiate on their businesses and how Ghanaian businesses could tap into their expertise for a mutually beneficial relationship.
Mr Youval Rasin, the CEO and Chairman of DekelOil Agri Vision PLC, entreated Ghanaian Agric entrepreneurs to approach it for agricultural processing expertise, logistics and farming operations.
"Our multi-disciplinary team of experts are focused on building a multi-commodity agro-industrial company in Ghana and the West Africa sub region," he noted.
The CEO of DataHarbor, Mr Oz Mizrahi, for his part, stressed a collaboration with Ghanaian data-analytics services companies on how to build the best data for the Fintechs, marketing, credit risk and smart pricing.
The Deputy Chief Executive Officer of the Ghana Investment Promotion Council (GIPC), Mr Yaw Amoateng Afriyie, said GIPC was well positioned to work with their Israeli counterparts.
"We have exciting new lithium prospects in our country, we have 60 million tonnes of manganese, 150 million tonnes of iron ore, biomass and 230,000 hectares of arable land," he stated.
He called on Ghanaian businesses to embrace the expertise from Israel to ensure their products and services meet international standards.