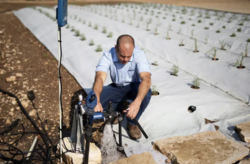 An employee from Netafim kneels beside an irrigation system at a research center in Kibbutz Magal, Israel November 30, 2020. (Photo: AMIR COHEN/REUTERS)
Jerusalem Post | 16 August 2023
Israeli and UAE firms sign MOU to tackle global agriculture challenges
By ZACHY HENNESSEY

In a significant move towards addressing critical global agricultural challenges, Netafim, a leader in precision agriculture, has forged a Memorandum of Understanding (MOU) with E20 Investment, a UAE-based entity. This collaboration marks the beginning of a potential joint venture, with far-reaching implications for sustainable farming practices.
At the heart of this partnership lies the shared objective of combating two pressing issues: food security and desertification. With the global population on the rise, ensuring a stable food supply is of paramount importance. Additionally, the growing threat of desertification places efficient water usage at the forefront of agricultural concerns.
The proposed joint venture capitalizes on the expertise of both Netafim and E20 Investment, leveraging their strengths to promote sustainable agricultural practices.
By harnessing precision irrigation techniques and integrating digital tools into farming and landscaping projects, the collaboration seeks to establish a synergy that fosters more environmentally responsible practices.
Sultan Al Jaberi, CEO of E20 Investment, highlighted the potential impact of the collaboration.

Sustainable agriculture in the Middle East

"The MOU represents a significant step towards empowering the local and regional growers developing more sustainable agricultural practices to optimize their crop yields and overall efficiency," he said. "It reflects our dedication to investing in innovative agricultural solutions on a global scale."
Elad Levi, Senior Vice President of APAC at Orbia Precision Agriculture, emphasized the broader implications of the partnership. "Building on Netafim's strong presence in the region, the partnership will also contribute to the advancement of sustainable agriculture practices across the Middle East and North Africa," he said.
Netafim and E20 Investment's upcoming joint venture signifies a noteworthy step forward in addressing the global challenges of efficient water usage and advanced farming techniques.
Levi concluded: "By co-developing large-scale farming projects that address food security and mitigate desertification, our work together represents a significant step towards creating a more sustainable future, locally and globally."