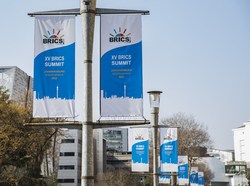 This photo taken on Aug. 21, 2023 shows a view near the venue of the 15th BRICS Summit in Johannesburg, South Africa. (Photo: Xinhua/Zhang Yudong)
Xinhua | 25 August 2023
Xi urges China, Africa to join hands for modernization
JOHANNESBURG, Aug. 24 (Xinhua) -- Chinese President Xi Jinping here on Thursday delivered a keynote speech at the China-Africa Leaders' Dialogue and urged China and Africa to join hands for modernization.
China is willing to launch the Initiative on Supporting Africa's Industrialization, which will support Africa in growing its manufacturing sector and realizing industrialization and economic diversification, Xi said.
The initiative stressed that through the nine programs under the Forum on China-Africa Cooperation, Belt and Road cooperation and the Global Development Initiative, China will channel more resources of assistance, investment and financing toward programs for industrialization.
China will launch the Plan for China Supporting Africa's Agricultural Modernization, Xi said, adding that China will help Africa expand grain plantation and encourage Chinese companies to increase agricultural investment in Africa.
The plan aims at helping Africa achieve food self-sufficiency and independent sustainable development, promote food production in Africa, effectively boost Africa's ability to safeguard its food security, and help it reach related goals in agricultural modernization.
China will host the second Forum on China-Africa Cooperation in Agriculture in Hainan this November, said Xi, adding that China will provide additional emergency food assistance to some African countries in need to help Africa tackle the current food crisis.
China will also launch the plan for China-Africa Cooperation on Talent Development, planning to train 500 principals and high-caliber teachers of vocational colleges, and 10,000 technical personnel with both Chinese language and vocational skills for Africa every year, Xi said.
In 2013, Xi announced the principle of sincerity, real results, amity and good faith for China's Africa policy. "Over the past 10 years, China has stayed committed to this principle," Xi said.
The Chinese president noted that China is pursuing the great rejuvenation of the Chinese nation on all fronts through a Chinese path to modernization, while Africa is making all-out efforts to build a new Africa that enjoys peace, unity, prosperity and strength.
Xi called on China and Africa to work together to create a sound environment for realizing their respective development visions by promoting just and equitable international order, practising true multilateralism and unequivocally opposing vestiges of colonialism and hegemonism in all forms.
China is ready to work with Africa to implement the new vision of common, comprehensive, cooperative and sustainable security, advocate the resolution of differences and disputes through dialogue and cooperation, facilitate the political settlement of international and regional hotspot issues, and safeguard world peace and stability, he said.
The Chinese president also said China and Africa should work together to build an open and inclusive world economy, advocating for the building of an open world economy, where developing countries are better involved in the international division of labor and share the fruits of economic globalization.
"We should overcome estrangement between civilizations through exchanges, promote inclusiveness and mutual learning between civilizations," Xi said.
Noting that there are various paths leading to modernization, Xi said that the African people have the most say on which path suits Africa best, and advancing modernization through integration is the independent choice made by African countries and people.
Looking ahead, China will work with Africa to enhance the synergy of their development strategies, and will continue to support Africa in speaking with one voice on international affairs to keep improving its international standing, Xi said.
China will also work actively at the G20 summit next month to support the African Union's full membership in the group, Xi said, adding that China supports making special arrangements on the UN Security Council reform to meet Africa's aspiration as a priority.