Phnom Penh Post| 15 August 2023
China firm plans '$12B' smart-agri investment
by Van Socheata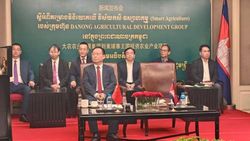 Danong Agricultural Development Group held a press conference on its plans to invest in provinces around the Tonle Sap Lake in Cambodia, on August 14. Image: BTV
A Chinese agricultural company has announced plans to invest "$12.7 billion" in the agriculture sector on 750,000ha of land in four provinces along the Tonle Sap Lake: Battambang, Pursat, Siem Reap and Kampong Thom.
During an August 14 joint press conference with senior government officials, Danong Development Group chairman Zhao Shujie described the provinces as having strong potential for both the growth and transportation of agricultural products. He said the agricultural investment project would be one of the most modern in Cambodia.
"The company plans to invest around $12.7 billion, in a project that will focus on the construction and management of agricultural infrastructure, the operation of agro-industries and the establishment of agricultural banks.
"This 'smart' agriculture project, which will be implemented soon, is expected to benefit the people and government of Cambodia," he said.
He added that earlier this month, he led a delegation of 13 investors and agricultural specialists to meet with agriculture minister Dith Tina and rural development minister Ouk Rabun. The delegates also met with the governors of the target provinces.
"The company is focused on three main areas: agricultural banking, agricultural infrastructure, and agro-industrial management and operations. Apart from rice and fruit, we aim to invest in animal and crop breeding farm, livestock farms, feed mills and cassava plantations," he said.
In February, it was reported that Cambodia and China were examining the possibility of establishing a "Fish and Rice Corridor" in northwestern Cambodia, particularly around the Tonle Sap Lake area.
"This would constitute an acceleration of Cambodia's modern agricultural development planning, and an examination into the possibility of digital agricultural cooperation and support for aquaculture, tropical plantations and other Cambodian sectors with potential," said a joint Cambodia-China statement at the time.
It was expected that the development would increase the attractiveness of the Kingdom's products to Chinese markets.
Duong Dara, secretary of state for the Council of Ministers who facilitated Danong's exploration of the Kingdom's investment potential, also addressed the press conference. He noted that the firm's investment is in line with the calls of Prime Minister Hun Sen for Chinese investors to invest in Cambodia, especially in the Kingdom's agriculture sector, which is considered to have strong economic potential.
"We expect the investment to enable the Kingdom to become a model country in the agriculture sector. It will benefit farmers and reduce the migration of Cambodians to other countries," he said.
Chairman Shujie also described Danong's plans to establish a large multiuse service centre in Preah Sihanouk province and a large agricultural bank which will provide capital to help farmers expand their businesses, mostly for exporting to China.