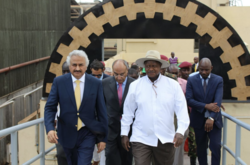 Mayur Madhvani and President Yoweri Museveni
The Ankole Times | 7 August 2023
Herdsmen occupy 10,000 hectares of Madhvani Sugar land in Amuru District
Amuru, Uganda – A substantial portion of land owned by Madhvani Sugar Factory in Amuru district has been encroached upon by herdsmen. This land, spanning 10,000 hectares, encompasses several villages including Kololo, Omee, Pailyec, Lwak Obito, Lujoro, and Bana within Lakang sub-county, Amuru district.
In 2017, the government acquired the land through a survey and provided compensation to the original landowners. This was intended to facilitate the establishment of a sugarcane plantation and a sugar factory by Madhvani Sugar Factory. However, no developmental activities have taken place on the land since then, rendering it unused and susceptible to occupation.
At present, the land is being utilized by non-native herdsmen for cattle grazing. Anthony Akol, Chairperson of the Acholi Parliamentary Group (APG), disclosed that these herdsmen have unlawfully taken control of the land, employing it to graze a significant number of cattle.
Efforts to register and verify the Balalo herdsmen by the MPs from Acholi, operating under Operation Harmony, are encountering difficulties in identifying those situated in Lakang. Akol also noted that these herdsmen are similarly occupying ranches and forestry reserves in the Acholi and Lango sub-regions, with some individuals seen carrying firearms.
To tackle this situation, the verification process for the herdsmen has been extended by a fortnight, commencing from Monday. The final outcomes of this exercise will be presented to the Cabinet for appropriate measures.
Rev. Fr. Charles Onen, the MP for Gulu East in Gulu City, stressed the importance of gathering evidence on the Balalo herdsmen before formulating recommendations for government action.
Simon Wokorach, the Aswa County Member of Parliament and General Secretary of APG, confirmed that the extension of the verification period was a collective decision by the MPs to effectively address the issue.