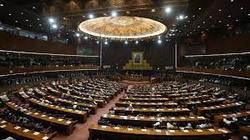 Arab News | 5 August 2023
Tides of change: Pakistan-GCC agricultural collaboration

By SHAZIA ANWER CHEEMA
On August 1, Pakistan's parliament passed the bill of Special Investment Facilitation Council (SIFC) for attracting investment in different sectors predominantly from Gulf Cooperation Council (GCC) states, particularly in the food and agriculture sectors.
The formation of SIFC will remove impediments because physical and financial securities demanded by foreign investors are now ensured by Pakistan's military. Even before passing the SIFC bill, Pakistan offered GCC states to invest in Pakistan for transforming it into a global food basket but due to security concerns things did not move forward. Providentially now all is set for offering investors to procure huge lands for agriculture farming, for establishing "value addition" factories for food processing, and for directly managing their food storages and supply chains through single window facilitation support.
Pakistan had been a food basket for GCC countries, predominantly for UAE and Saudi Arabia from the 80's till the late 90's. However, by the advent of the 21st century, Pakistan had already lost its status of a significant food provider to GCC states owing to several reasons including the lack of value addition and the incapability of meeting international food product safety standards set by UAE, Saudi Arabia and Qatar.
Pakistan's presence did not cease in the food market but its share was reduced to the ground. In 2021, Pakistan exported just $1.63 million worth of vegetables to UAE. To export these edibles to the UAE, exporters must comply with food product safety regulations and standards, and all edible products being exported must be free from harmful chemicals, contaminants, and diseases and meet the UAE's import requirements. Moreover, the food products must be packaged and labeled in accordance with the country's regulations.
Pakistan is the nearest destination for gulf countries for edible export and lite ferries' cargo reaches UAE from Karachi in just 30 to 35 hours. Wheat and rice are also major demands of the Gulf market and a report of the United States Department of Agriculture and Global Agriculture Information Networking released in December 2022, stated that Pakistani exporters maintained sales of 500,000 tons of rice to GCC states, but that wheat export was relatively insignificant.
There is no doubt that Pakistan has a comparative advantage in a number of agricultural commodities, but it has failed to exploit these gains to their fullest potential in overseas markets.
Conversely, the situation will altogether change when GCC investors arrive in Pakistan for producing edibles through agriculture and livestock farming facilitation and processing and packaging of foods with international standards. This will not only help Gulf companies ensure their food security, but will also provide opportunities for global export from Pakistan because the majority of GCC states have been looking toward Ukraine as their backyard food-producing garden.
Though the Ukraine-Russia conflict has altogether changed world food security dimensions and the emerging situation is pushing countries with non-arable lands to experiment with crop growing even in deserts, UAE has been doing it already since 2022 for cultivating wheat by using desalinated water for irrigation. It has planned to expand its agricultural lands to 3,400 acres by 2025.
Before the Ukraine-Russia conflict started, Saudi Arabia, Qatar and the UAE had been purchasing/ thinking of leasing arable lands in Ukraine for agriculture and livestock farming. In September 2018, "Saudi Agricultural and Livestock Investment Co." (SALIC), signed an agreement to acquire Ukraine's domestic agricultural holding "Mriya."
Saudi Grains and Fodder Holding got 45,000 hectares of land in 2013 on the lease for growing wheat, barley, potatoes, oilseeds, and sugar beets. In 2018, after the purchase of shares of United Farmers Holdings, and the acquisition of the agricultural holding company "Dream," the total land bank of SALIC in Ukraine grew to about 200,000 hectares of land.
UAE in 2009 and Qatar in 2010 initiated negotiations for buying/ leasing farmlands for wheat production in Ukraine. In 2021, Qatar again initiated negotiations for a livestock project until the Ukraine conflict hampered all such initiatives of GCC states. All these developments indicate that GCC states need farmlands to invest in agriculture and livestock for their future food security issues. In this scenario, Pakistan has emerged as the prime desirable destination and Pakistan's civil and military leadership together offered gulf countries to get the benefit of the recently launched program "Land Information and Management System-Center of Excellence" for introducing modern agro-farming and utilizing over nine million hectares of uncultivated state land.
According to the annual report for the year 2023 released by the US Department of State titled "Investment Climate Statements: Pakistan," foreign investors have been demanding from Pakistan to improve legal protections for foreign investments, protection of Intellectual Property Rights, and establishing clear and consistent policies for upholding contractual obligations and settlement of tax disputes. Now, SIFC is almost in place to address objections raised by foreign investors and it will also work as a "sovereign guarantee" that the change of political governments in the future will not hamper national commitments granted to foreign investors.