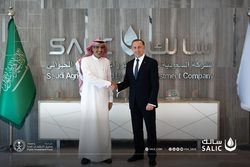 The CEO of the Saudi Agricultural and Livestock Investment Company
receives
the Ambassador of Ukraine at the SALIC headquarters in Riyadh, October 13, 2022. The Continental Farms Group is wholly owned by SALIC and operates on 200,000 hectares of agricultural land in western Ukraine.
Quantum Commodity Intelligence | 28 July 2023

Amid war, Ukrainian firm readies to sell first soil credits
Ukrainian agricultural conglomerate Continental Farmers Group (CFG) is planning to market the country's first soil carbon credits using a methodology developed by Verra, despite the ongoing war in the east European nation that has now lasted for 17 months.
CFG executives told Quantum auditors are in the process of verifying 226,000 tonnes of CO2e of emissions reductions from regenerative agriculture techniques that boost the amount of soil organic carbon (SOC), under a programme run by Danish fintech company Agreena.
The company has enrolled 152,966 hectares of land in the pilot, or around four-fifths of its total land holdings.
The scheme is part of a larger European scheme developed by Agreena, which uses Verra methodology VM0042 for improved agricultural land management.
The project, VCS4022, is currently marked as "under validation", records from Verra showed on Friday.
"Despite the current situation in Ukraine our Company successfully maintained all of its operations and business activities," said CFG.
"CFG effectively rearranged supply chain to stand guard over the Ukraine's food supply and access the European market, also could effectively implement number of strategic initiatives in scope of ESG Program."
CFG is Ukraine's sixth largest agricultural company, first created in the early 1990s and operating out of the Ternopil oblast in western Ukraine.
Oksana Burburska, Chief Risk and Compliance Officer at CFG, told Quantum the firm has already estimated emissions reductions for the year 2022, and expects final credit issuance in the fourth quarter of 2023 or the first quarter of 2024.
"Being strongly committed to the adoption of sustainable agriculture practices, CFG applied for independent assessment of current CFG farming practices and carbon baseline and obtain certification for farming practices under the Verified Carbon Standard – Verra," said the company.
In June, Danish fintech company Agreena said it had increased the number of hectares enrolled in its soil carbon platform tenfold to 600,000 hectares across 16 European countries and raised payout levels to farmers by up to 45% in its second harvest year.
"The number of hectares enrolled grew 10x over the previous year and farmer participation increased 4x," the company said in a statement, adding: "Agreena is paying the largest incentives to farmers under a soil carbon scheme to-date at €32 to €36 ($35-39) per anticipated carbon certificate generated depending on region, an increase of up to 45% from last year."
In February 2022, Russia launched a full, multi-pronged war against Ukraine, leading to an estimated 50% drop in grain production for this year.