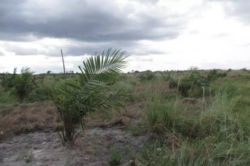 OLAM oil palm plantation close to Sanga village (Photo: WRM)
Reuters | 28 July 2023
World Bank's IFC proposes return to palm oil financing in Gabon
WASHINGTON: The World Bank Group's private-sector lending arm is planning a return to palm oil financing after a 14-year suspension with a proposal for a syndicated loan of up to US$350 million to develop palm oil plantations in Gabon under revised sustainability rules.
An International Finance Corp (IFC) spokesman said on Thursday that the goals of the loan proposal for Olam Palm Gabon SA "include supporting rural employment and nurturing sustainable development of Gabon's agriculture sector."
In a project disclosure statement on its website, the IFC said it would provide US$150 million from its own account to the project, with the remaining US$200 million to be syndicated to other lenders.
IFC suspended investments in palm oil businesses in 2009 after review of its practices in the sector following complaints by small land-holders and indigenous groups in Indonesia about its investments in projects by major palm oil producer Wilmar International.
An independent assessment at the time found that IFC had lacked a strategy for dealing with widespread social, environmental and governance problems in Indonesia's palm oil sector and had failed to properly evaluate the projects.
The World Bank Group and IFC later developed a strategy and in 2011 published a framework for sustainable palm oil sector investments, including plantation development on non-forested lands with settled land claims and in jurisdictions with strong governance and regulation. The framework also emphasises improvements in the productivity of existing oil palm plantations to reduce the need to consume more land.
Olam Palm Gabon is a joint venture 60% owned by Singapore-based Olam Group and the government of Gabon that has developed six plantations in the West African country which the company says meets standards set by the Roundtable on Sustainable Palm Oil.
The IFC disclosure said the loan proceeds would help maintain existing facilities and be used to construct a biodiesel plant and refinery at the Owendo port near the capital Libreville, a new palm oil mill with a kernel crushing plant, and biogas co-generation plants at the new mill and three existing mills.
The loan also would expand drip-irrigation facilities to 20,000 hectares of plantation land and include partial repayment of shareholder loans.