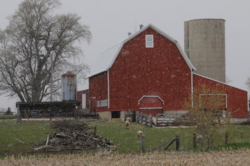 Snow falls on a farm in the Racine County town of Union Grove, Wisconsin, U.S., April 27, 2019. (Photo: REUTERS/Brian Snyder)
Reuters | 27 July 2023
Lawmakers seek to limit corporate and foreign ownership of US farmland

By Leah Douglas
WASHINGTON, July 27 (Reuters) - U.S. lawmakers from both parties are pushing legislation that would limit who can own American farmland, with a latest effort from Democratic Senator Cory Booker aimed at curbing corporate ownership.
Farm groups and lawmakers are concerned that land buys by investors and foreign countries are driving up farmland prices and threatening national security.
Booker's Farmland for Farmers Act, introduced on Thursday, would ban most corporations, pension funds and investment funds from buying or leasing farmland.
"We must protect farmland from becoming an investment strategy for huge corporations," Booker said in a statement.
Institutional investors - including Nuveen Natural Capital, a subsidiary of TIAA, and UBS Farmland Investors - own $15.9 billion of farmland, according to the National Council of Real Estate Investment Fiduciaries' Farmland Index.
Several U.S. senators, including Iowa Republican Joni Ernst and Montana Democrat Jon Tester, have introduced bills in recent months to limit foreign ownership of farmland, citing concerns that adversaries might buy U.S. land to gain influence.
The Senate on Tuesday passed an amendment to the National Defense Authorization Act that would boost federal review of foreign farmland purchases and limit some by China, Russia, Iran and North Korea.
China holds less than 1% of U.S. foreign-owned farmland, according to the Department of Agriculture (USDA). Canada holds 31%.
Jordan Treakle, national program coordinator for the National Family Farm Coalition, said corporate ownership is the more pressing concern for rural communities because of its impact on land prices.
"Most farmers cannot outbid a multinational corporation," he said.
The average price of an acre of farmland was $3,800 in 2022, a record high and up 75% from 2008, according to USDA data.
Booker hopes to pin his bill to this year's farm bill, an omnibus package passed every five years that funds farm and nutrition programs, said a staffer.