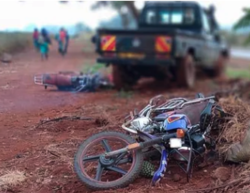 The Bureau of Investigative Journalism | 17 July 2023
Del Monte guards accused of another attack on two teenagers

Security guards working for the multinational fruit company Del Monte have been accused of running over two teenagers at a pineapple farm in Kenya that is currently at the centre of an investigation into alleged human rights abuses.
Brian Ingusu, 17, and David Lucheli, 19, were both admitted to hospital with serious injuries after the incident on Saturday. They say they were knocked off their motorbikes after a 15-minute pursuit by Del Monte guards driving Toyota Land Cruisers. Pictures from the scene show the teens lying apparently unconscious next to a Del Monte vehicle.
Local media has reported that Ingusu was knocked out and suffered a broken leg, broken ribs and deep cuts on his face, while Lucheli sustained bruises on his face, hands and legs.
The allegations follow a joint investigation by The Bureau of Investigative Journalism and The Guardian that revealed allegations of six killings in the last decade by guards at Del Monte's vast pineapple plantation, which supplies the majority of UK supermarkets. The Kenya National Commission on Human Rights said last month that it was launching an investigation into the allegations. Tesco said it had suspended orders on all products sourced from the farm.
Del Monte told TBIJ: "This is an extremely concerning matter and we are taking it very seriously. We are undertaking an urgent and detailed investigation to determine what happened and when that is completed, we will take any and all necessary and appropriate action."
Waitrose said on Monday that it is "extremely shocked and concerned to learn about the latest allegations against Del Monte" and that it will investigate them "as a matter of urgency".

A spokesperson for the British Retail Consortium, the industry body that represents UK supermarkets, said: "These horrific new allegations are extremely concerning and must be urgently investigated in the Human Rights Impact Assessment. Protecting the welfare of people and communities in supply chains is fundamental to our members' sourcing practices, and any practices that fall short of our high standards are not tolerated by retailers."
In response to the latest incident, Kenyan MP Betty Maina called for an end to the alleged violence. "Very many young children from [the local region] have suffered under the hands of the Del Monte farm," she said. "This madness must stop. Enough is enough."
The breadth of the alleged violence committed by security guards at the farm has been captured by British law firm Leigh Day, which has written to Del Monte detailing 146 alleged incidents involving 134 locals over a decade. The letter also included five allegations of rape.
Much of the alleged violence is committed against those suspected of stealing pineapples from the farm, but there are also many allegations of violence against those not involved in theft.
The Del Monte vehicle involved in Saturday's incident is understood to have been impounded at Ngati police station, while the Gatanga sub-county police commander has reportedly stated that the collision was an accident.
Locals have expressed concerns about the close ties between Del Monte and Ngati police station given that the station is located on the farm and its officers are known to use Del Monte vehicles for police business.
Del Monte says it is investigating Saturday's incident. In response to TBIJ's investigation last month, Del Monte said that it took the allegations "extremely seriously" and had "instituted a full and urgent investigation into them". A spokesman said that the conduct alleged was "in clear violation of Fresh Del Monte's longstanding commitment to human rights and the comprehensive policies and procedures we have in place to ensure our operations respect the dignity of all individuals".
Del Monte said that its investigations "will be supported by an independent review by a specialist human rights consultancy", although it has declined to provide details of the company it has hired to carry out the review, or provide a timeline on when it will conclude.