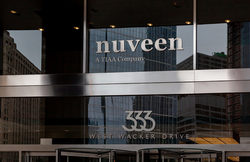 Nuveen | 25 July 2023
Wealth advisors gain access to global farmland investment from Nuveen via iCapital
NEW YORK, July 25, 2023 /PRNewswire/ -- Nuveen, the $1.1 trillion investment manager of TIAA, has expanded its partnership with iCapital, the global fintech platform driving access to alternative investments for the wealth management industy, to offer investors and financial advisors the opportunity to allocate to high-quality, globally diversified agricultural assets.
The Nuveen Global Farmland strategy is managed by Nuveen Natural Capital, the largest manager of global farmland1, with $12.4 billion in assets currently under management. The strategy invests across major agricultural regions of the world, with an asset mix that currently includes winegrapes in Napa, Monterey, Sonoma and Madera counties in California; U.S. row crops, including corn, soybean, rice, cotton and other vegetables; and, horticulture crops, such as almonds, raisin grapes and pistachios.
This is the fourth Nuveen private market strategy available to wealth advisors and their clients on iCapital's technology platform, adding to a list of offerings focused on real estate, private credit and private equity.
Access to Growing Agricultural Market
Today, a rising global population, diminishing supply of arable land and technology adoption increasing productivity are key drivers of the value of farmland worldwide. "By 2050, the world's farmland will likely have to support a population of more than 9 billion people – an increase that will require a 60 percent boost in food production," said Keith Jones, Head of Global Alternative Investments Product. "Nuveen Natural Capital is responding to this global challenge with a management approach geared toward developing the efficiency, as well as the portfolio value, of farmland assets to their full potential."
According to Nuveen's annual EQ Global Institutional Investor Survey, the percentage of institutional investors globally that plan to increase their allocation to farmland over the next two years increased from zero in 2021 to 18 percent 2022.
"Because of the strong fundamentals, risk-adjusted returns, low correlations with traditional investments and inflation protection of the asset class we anticipate significant interest from the qualified wealth investor segment, just as we have seen from institutional investors increasing their allocation to global farmland," said Jones.
Agricultural land, as measured by the U.S.-only NCREIF Farmland Index, has outperformed both domestic stocks and bonds on an annualized basis over the last 48 years, providing both consistent income and capital appreciation. The NCREIF Farmland Index's total return has consistently provided returns more than double the inflation rate since 1991.2
Local Asset Expertise Supports Portfolio Management
With a 35 plus-year track record in natural capital investments, Nuveen employs an active, vertically integrated asset management approach, extending from the property to the portfolio level. In addition to maintaining centralized research, portfolio management and ESG capabilities, Nuveen utilizes local expert personnel who support the fund portfolio's overall diversification as well as property-level efforts to build the productivity and sustainability of farmland assets.
"Our managers focus on identifying diverse farmland sectors that are best positioned to benefit from a broad range of macro dynamics and local attributes, including market and governance factors in specific countries and regions as well as supply and demand factors like changing diets and consumer preferences," said Jones.
Media Contact:
About Nuveen
Nuveen, the investment manager of TIAA, offers a comprehensive range of outcome-focused investment solutions designed to secure the long-term financial goals of institutional and individual investors. Nuveen has $1.1 trillion in assets under management as of 31 Mar 2023 and operations in 27 countries. Its investment specialists offer deep expertise across a comprehensive range of traditional and alternative investments through a wide array of vehicles and customized strategies. For more information, please visit www.nuveen.com.
About iCapital
Founded in 2013, iCapital is the leading global fintech company powering the world's alternative investment marketplace. iCapital has transformed how the wealth management, banking, and asset management industries facilitate access to private markets investments for their high-net-worth clients by providing intuitive, end-to-end technology and service solutions; education tools and resources; and robust diligence, compliance, and portfolio analytics capabilities.
As of May 31, 2023, iCapital services over $159 billion in global client assets, of which nearly $29 billion are from international investors (non-U.S. Domestic) across more than 1,288 funds. Employing more than 1,090, iCapital is headquartered in New York City and has offices worldwide, including in Zurich, London, Lisbon, Hong Kong, Singapore, and Toronto.
1 Pensions & Investments, 03 Oct 2022. Rankings based total worldwide farmland assets under management for the 12 months ending 30 Jun 2022 as reported by each responding asset manager.
2 Nuveen Natural Capital, Investing in Farmland (03 Feb 2020)
SOURCE Nuveen