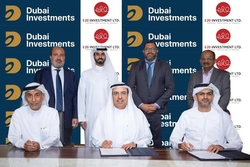 DI & E20 at the MoU signing ceremony. Image courtesy: Dubai Investments
Emirates News Agency (WAM) | 11-07-2023
Dubai Investments and E20 sign MoU for agricultural investment in Angola
DUBAI, 11th July, 2023 (WAM) -- Dubai Investments and E20 Investment, an Abu Dhabi-based agribusiness investment company, have signed a Memorandum of Understanding (MOU) to develop 3,750 Ha of agricultural land in Angola, harnessing the potential of the country's agricultural sector for sustainable growth and economic development.
E20 Investment, specialises in investing in and operating farms and processing facilities across the globe, with a particular focus on Europe, Central Asia, and Africa. The company brings a wealth of knowledge from various corners of the world, highlighting international expertise in the agricultural industry.
The MoU is focused on developing vast area of leased out land located in Angola and the project's objective is to cultivate rice and avocado crops, leveraging Angola's fertile soil and favorable climate conditions to achieve substantial yields.
Over the course of 18 months, the joint venture aims to transform the land into a thriving agricultural hub, resulting in a projected production of 28,000 tons of rice and 5,500 tons (peak production) of avocados.
Commenting on the joint venture, Khalid bin Kalban, Vice Chairman and CEO of Dubai Investments, said that through this collaboration, along with the overall development of the area, the Group aims to contribute to Angola's food security which will support in enhancing the country's agricultural productivity while generating economic value for all stakeholders involved.
"E20 Investment brings extensive experience in managing large-scale agricultural projects, ensuring the implementation of cutting-edge technologies and sustainable farming practices. Their expertise will be instrumental in maximizing the project's efficiency, productivity, and profitability," he added.
Kalban added that Dubai Investments is already investing in the Angolan market with the ongoing development of the Dubai Investments Park ( DIP) Angola, highlighting the Group's caliber in creating highly successful mixed-use development parks like the Dubai Investments Park model in the UAE.
Sultan Al Jaberi, CEO of E20 Investment, said that the MoU represents a significant step towards promoting agricultural development in Angola, fostering economic diversification, and nurturing a sustainable future.
"By combining our expertise with Dubai Investments' vast network and resources, we are confident in our ability to create a successful agricultural project in Angola that will contribute to the country's economic growth and employment opportunities," he noted.
Rola AlGhoul