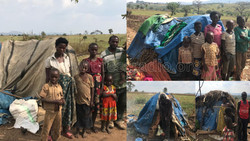 Some of the evictees at their ramshackle houses hoping for new life after attending 2023 alliance meeting.
Witness Radio | 4 July 2023 [
FR
]
Picking up broken pieces: victims of land grabs in Uganda have resolved to put their past aside to build a new life.
Despite the dominance of many faces of poverty at a week-long camp that ended last Saturday, the 1st of July, 2023, held in Kassanda district, members of the informal Alliance for victim communities of irresponsible land investments have resolved to use any available opportunity at their disposal to re-build a new life.
In their week-long activity camp, participants were drawn from different parts of Uganda and outside the country to think of opportunities available, peer-to-peer learning and share experiences, testimonies and knowledge network building, and starting and running cooperative unions.
The second alliance camp meeting drew representatives of communities affected by palm oil in Kalangala and Buvuma, evictees of Formosa tree planting company, Bukinda and Katikala evicted by Hoima Sugar Limited, victims of the East Africa Crude Oil Pipeline (EACOP) from Kapapi in Hoima district, and victims of Kyangwali Refugee Camp and other groups from Uganda. The camp also was joined by Alliance members from West Africa nations.
The 2023 alliance camp was hosted by Bukakikama Cooperative Union, founded by over 10,000 people forcefully evicted off their land by New Forests Company (NFC) to plant monoculture tree plantations (eucalyptus and pine).
The cooperative members, the last five (5) years started teaming up and renting land to grow seasonal crops including maize to find an alternative means of survival as they continue with a struggle to regain their land back.
In February 2010, over 10000 villagers in seven villages woke up to a hail of NFC representatives and graders under the protection of the Uganda People's Defense Forces (UPDF) and the Uganda Police Force (UPF), which in turn were under the command of the then Mubende Resident District Commissioner Nsubuga Bewaayo. They destroyed the villagers' properties worth billions of Uganda shillings to give way for NFC monoculture plantation.
The evictions rendered people from Kanamire, Kyamukasa, Kigumya, Kyato, Kisita, Mpologoma, and Bulagano villages in the Mubende district landless without consultation, compensation, or resettlement.
The New Forests Company is a U.K based company operating monoculture tree plantations in Uganda. It has plantations in Namwasa in Mubende, Luwunga in Kiboga, and Kirinya in Jinja.
The company has received funds from the Dutch Fund for Climate and Development, Agri-Vie Agribusiness Fund, FMO, European Investment Bank, and HSBC, among others to support its timber and carbon credits activities.
Protecting vulnerable groups, developing less developed countries, and uplifting the livelihoods of the local communities is one objective in common of mentioned NFC funders. But the story is a different story in Mubende, communities revealed that they were violently pushed off their land to unending suffering while the company and the banks continue to profit from their land.
NFC victims were duped and abandoned: In the fight to regain their land, the communities in 2011, with support from civil society groups filed a complaint to the World Bank's Compliance Advisor Ombudsman (CAO) in relation to an investment made by Agri-Vie Agribusiness Fund, a client of IFC. The complainants raised concerns about forced evictions and displacement in the plantation area and how the evictions had negatively impacted their communities by displacing them from land, destroying their private property, and forcing them to forgo health, education, and livelihood opportunities. The complaint was found eligible for further assessment.
Parties opted to address issues through dispute resolution. What turned out was dumping and duping the community members. Under their Bukakikama Cooperative Union formed in 2013, they received 600 Million Ugx (162538.14 USD) to buy land elsewhere. For the 901 families evicted, the money wired to their account by the company as agreed in the dispute resolution agreement was not enough. Only 453 families were allocated land which is also not equal to what they had. Each was allocated 1 acre (less than half a hectare) of barren land filled with rocks. The remaining 448 families haven't been compensated or resettled up to date.
After over 15 years of suffering with no land to live on, to practice agriculture which was their sole source of livelihood, or bury their beloved ones. A few of the evictees led by the chairman of the cooperative society, Mr. Julius Ndagize resolved to re-unite to embark on a new journey to restore their livelihoods.
In 2021, the victim community reached out and entered into a gentleman's agreement with one of the landlords to rent out his 82.9606 hectares to them. They agreed to pay the landlord every after-season harvest. Now the land is being occupied by 130 NFC evictees.
According to the Evictee leaders, their target is to see all NFC evictees get land to live on like they hitherto lived. Despite acquiring 82.9606 hectares for the evictees, the leaders have not relented. They are currently walking on a journey to acquire 906.496 hectares for the rest of the community members in the Mubende district.
Mr. Ndagize Julius adds that with all that land in their hands, the community he is leading will be able to revive their dreams by contributing to family food sovereignty, preserving and protecting ecosystems and welfare of their families.
"Whereas we are pursuing these means, we have not stopped demanding for our grabbed land. We are also continuing to use available opportunities, reaching out to the company funders and other stakeholders to enable us to regain our land and get compensation. It's a continuous fight we believe we shall win." The cooperative chairman added.
Journey to start a new life: Upon listening and learning from Bukakikama cooperative experience, the 2023 camp attendees got inspired. And at the end of the camp, one of the resolutions is to replicate Bukikama's success story.
"We unanimously agreed to go back to our respective localities and start re-mobilizing members of affected communities, bring counsellors and experts on union, legal issues, and modern agriculture issues to build our capacities which will help us get fresh energies and start a new life" Said Stella Akiteng, the Alliance chairperson.
She added that each group's priority is to re-organize themselves and identify an economic activity to earn money to support their survival without looking at a size of the project.
The Alliance members in Uganda resolved to speak with one voice against the escalating forced land evictions in Uganda.