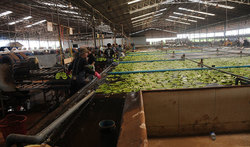 Khmer Times | 16 June 2023
Chinese-invested banana farm expanding plantation to meet high market demand
Chinese-invested banana farm in Stung Trang district of Kampong Cham province plans to expand its plantation to meet rising overseas market demand.
According to Mr. Wu Fuxiang of the investing firm NONG YE FAZHAN CO., LTD., the company has invested more than US$16 million in 2021 on 600 hectares of land and the plantation is fully farmed now.
To respond to the growing demand for the fruit export, his company will expand its plantation, he told a group of reporters during their media tour to the farm, organised by the People's Daily last week.
He added that about 2,000-40,000 tonnes of fresh bananas are exported to China alone annually and it has become very popular.
The company currently employs some 20 Chinese employees and more than 1,200 Cambodian workers.
China is a huge market for Cambodian potential agricultural products, not only for fresh bananas but also for rice, cassava, mango, and longan.
Cambodia formally shipped its first harvest of fresh bananas to China in May 2019.
In the first 11 months of 2022, Cambodia exported a total of 345,470 tonnes of fresh bananas, down 12.73 percent from the same period in 2021, according to Ministry of Agriculture, Forestry, and Fisheries. AKP-Oum Sophat