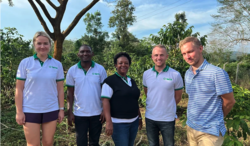 The Baltic Times | 19 June 2023
Company restoring lands in Africa raises EUR 1 mln from Estonian investors
TALLINN - 1MT Nation OU, an Estonian developer of nature-based high-quality carbon credits, has raised one million euros from Estonian investors and included top-level forestry expertise in its operations.
The investors include Margus Kohava, who has extensive experience in the forest industry, and Warmeston OU, a producer of wood pellets.
1MT Nation OU, which restores damaged lands in Africa and develops high-quality carbon credits, has set a mission to restore at least one million hectares of land by 2030 by planting local bamboo species. In April of this year, the first 300 hectares of bamboo were planted in Uganda, and preparations have begun for planting bamboo on 2,000 more hectares in Uganda and on 1,000 hectares in Kenya. In June, 1MT Nation OU brought in broad-based strategic competence and one million euros, primarily from Estonia, for the rapid expansion of bamboo plantations. Among the investors are Margus Kohava, head of the Estonian Forest and Wood Industries Association, with his extensive experience in the forest industry, and Warmeston OU, a producer of wood pellets.
"Bamboo is one of the most effective nature-based tools for mitigating climate change and although the removal of carbon dioxide pollution from the atmosphere is significantly faster than with an average forest due to the rapid growth of bamboo, land restoration and opening of plantations is an investment-intensive activity and we're particularly pleased that in the first phase we not only involved strategic investors with sector-specific competence but also investors on a large scale, primarily from Estonia," Kristjan Raude, CEO of 1MT Nation OU, said. "This shows that experts understand our business and that Estonian players have started to address the pressing situation of climate change more," he added.
The head of the Estonian Forest and Wood Industries Association, Margus Kohava, noted that the consequences of climate change affect everyone, regardless of their geographical location.
"I continuously hold the view that the wise and thoughtful development of forestry and the forest industry will best help us to combat climate change. 1MT Nation OU is restoring damaged lands through reforestation and we can also offer strong support in this process with our expertise."
Kohava noted that investment in nature cannot be paused even in difficult economic conditions, and in addition to the positive impact on climate and nature, the activities of 1MT Nation OU also create a strong social impact.
"Our company primarily produces wood pellets from the residues of the durable goods produced by the Estonian forest and wood industry, which replace the use of coal in efficient industrial combined heat and power plants. Last year, the pellets produced by Warmeston prevented the mining of nearly 300,000 tons of coal and nearly 900,000 tons of carbon dioxide emissions. 1MT Nation OU takes a step further in its activities and removes from the atmosphere the carbon dioxide that has largely been emitted as a result of human activity in the past, storing it in the long term in the rapidly growing biomass of new plantations," Mait Kaup, CEO of Warmeston OU, said. "Partnership with 1MT Nation OU is a logical step for us. We support nature-based solutions that have a real positive impact and we can exchange and mediate sector-specific competence," Kaup added.
1MT Nation OU (1MTN) is a developer of nature-based and high-quality carbon credits in Africa, aiming to restore damaged lands by planting bamboo, creating thousands of jobs, supporting local communities, and offering nature-based carbon dioxide removal credits to businesses. The founders of the company are entrepreneur and investor Kristjan Raude and climate lawyer Anete Garoza. 1MTN is headquartered in Tallinn, with subsidiaries in Kampala and Nairobi.