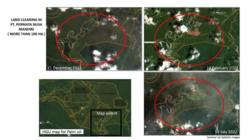 Land clearing in palm oil company PT Permata Nusa Mandiri's concession in Jayapura district, Papua province, Indonesia, in 2022. (Image: Greenpeace Indonesia's research and mapping team)
Mongabay | 12 June 2023
In Indonesia, companies defy government's decision to revoke their permits
by Hans Nicholas Jong
JAKARTA — The Indonesian government's decision to revoke hundreds of logging, plantation and mining permits across the country is marred with irregularities including companies continuing to operate or engage in conflicts with Indigenous and local communities, according to a new report.
Furthermore, there's lack of clarity on how the permit revocations are carried out, prompting questions such as what will happen once the permits are rescinded, according to the report by Indonesia's largest environmental NGO, WALHI.
The report looked at a dozen companies whose permits were either revoked or are under investigation for potential rescinding by the government in the future.
The report found at least four companies continued to operate even after their licenses were identified as rescinded.
These companies are logging company PT Nusa Pala Nirwana (NPN) in North Maluku and palm oil companies PT Permata Nusa Mandiri (PNM) in Papua as well as PT Banyan Tumbuh Lestari (BTL) and PT Inti Global Laksana (IGL) in Gorontalo.
All four companies are on the list of nearly 200 corporate entities targeted in a mass cancellation of permits in January 2022.
President Joko Widodo announced the mass revocations in early 2022 on the basis that the companies that were awarded the concessions were deemed to be moving too slowly in exploiting natural resources.
The affected concessions include environment ministry permits for 192 logging, plantation, mining and ecotourism operations totaling 3.13 million hectares (7.73 million acres); 36 land ministry permits for plantations (34,448 ha, or 85,123 acres); and 2,343 energy ministry permits for mines.
To carry out the revocations, the president has established a task force led by several ministers who will be responsible for evaluating how the affected permit holders used their concessions and how those concessions will be used following the revocations.
Despite being on the list, the report found that NPN was still operating until at least September 2022.
This was evidenced by the company's levy payment to the government, called a forest resource rent provision, or PSDH in its Indonesian acronym, and forest restoration fund during that month.
In the case of BTL and IGL, both of which are members of the Provident Agro Group, the companies continued to operate by planting two tree species, Gliricidia sepium and Calliandra, rather than oil palm trees.
The companies could do so by pocketing new permits under the government's social forestry program in 2020, according to the report.
The social forestry program aims to reallocate 12.7 million ha (31.4 million acres) of state forest to local communities and give them the legal standing to manage their forests. It's unclear how BTL and IGL could obtain new licenses under the social forestry program.
The report said BTL and IGL had also built wood pellet mills and BTL has a plan to build a port by reclaiming mangroves.
The ongoing operation of companies means that local and Indigenous communities who claim ancestral rights to many of the concessions continue to be sidelined, WALHI forest and plantation campaign manager Uli Arta Siagian said.
For decades, much of Indonesia's land was parceled out to companies at the expense of Indigenous peoples and local farmers.
This has resulted in a wide gulf in land ownership, with just 1% of Indonesians controlling more than half of the land, including forested areas that have been cleared to make way for pulpwood plantations and oil palm estates, among other commercial activities.
The permit revocation process therefore presents a rare opportunity to consider ways of redistributing the affected concessions to local and Indigenous communities.
Redistributing the lands to local and Indigenous communities could go a long way in protecting the remaining forests inside the concessions, WALHI argues.
Science has demonstrated that forests and other biomes are healthier when these communities are in charge, even though their customary rights aren't always recognized.
And a recent analysis by TuK Indonesia, an NGO that advocates for social justice in the agribusiness sector indicated there are still large swaths of forests in these concessions.
According to the analysis, 72% of the concessions whose licenses are targeted to be revoked are located in forest areas that should be off-limits to intensive agricultural and logging activities.
But the report's findings indicate that land redistribution to local and Indigenous communities isn't happening, Uli said.
"We have to say that this initiative has failed because it's not being followed up by restoring people's rights by redistributing [concession] areas that have been occupied by people and settlements," she said.

Deforestation
The permit revocations have also failed to restore ecosystems that have been degraded by the past operation of concession holders whose licenses have been revoked or targeted for revocation, an analysis by environmental NGO Pusaka found.
Instead of protecting and restoring forests in their concessions, companies continue to drive deforestation in their areas long after their permits are revoked or identified to be revoked.
In Indonesia's easternmost region of Papua alone, four palm oil companies cleared 943.3 ha (2,331 acres) of forests in the first four months of 2023 — an area three times the size of New York's Central Park or 20,000 basketball courts.
The four plantation companies are PT Subur Karunia Raya, PT Inti Kebun Sawit, PT Inti Kebun Sejahtera and PT Permata Nusa Mandiri.
According to a spatial analysis by environmental Pusaka, Inti Kebun Sawit had the largest deforestation in its concession, with 413.8 ha (1,022 acres) cleared from January to April 2023.
This was followed by Subur Karunia Raya with 352.6 ha (871 acres) of deforestation, Inti Kebun Sejahtera with 100.9 ha (249 acres) and Permata Nusa Mandiri with 67 ha (166 acres).
In the case of Permata Nusa Mandiri, the company had its permit revocation finalized in March 2022, whereas it wasn't clear whether the other three companies in Papua had the revocation of their permits, known as a forest release permit, finalized or not.
In spite of this, Permata Nusa Mandiri had been actively clearing forests for months after its permit was identified to be revoked.
The land clearing started shortly after Indonesia's environment ministry issued the list of companies whose permits would be revoked.
Prior to that, PNM's concession in Jayapura district, in Papua province, was dormant — the reason cited by the government for most of the permits revoked.
In the weeks after the revocation was announced, the company jump-started activity, carving a road and several plantation blocks out of its land concession.
As of July 2022, the company had cleared more than 100 ha (247 acres) of land, according to Greenpeace Indonesia's analysis.
Pusaka advocacy manager Tigor Hutapea said the forest clearing was done because PNM perceived the decree, which contains the list of companies whose permits would be revoked, as not having legal standing.
"The initiative to revoke and evaluate permits in the decree is not effective in curbing deforestation in Papua," he said.
One inherent flaw in the permit revocation process is the lack of public participation and access to information, Uli said.
For one, the task force established by the president to carry out the revocation doesn't have representatives from civil society, she said.
Therefore, there's no room for civil groups to give input and recommendations to the task force on concessions that should be evaluated and on how the revoked concessions should be given to local communities, Uli added.
It's also very difficult for civil groups like WALHI to get access to information pertaining to the permit revocation, she said.
The only information WALHI got was from press conferences in April and August 2022 by the country's investment agency, BKPM, which spearheads the task force.
WALHI had sent information request letters to the task force three times from January to March 2023, to no avail.
Linda Rosalina, the head of the campaign and education department at TuK Indonesia, said this lack of transparency not only hinders the permit revocation process, but also the management of land and forest in general.
"Information about permit pertains to the livelihoods of many people," she said. "In our opinion, there won't be justice in the management and utilization of land and forest without transparency."