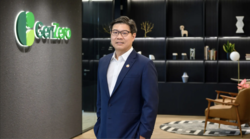 GenZero CEO Frederick Teo (Photo: Albert Chua/The Edge Singapore)
The Straits Times | 8 June 2023
Temasek-owned firm to invest in forest restoration project in Ghana

by Cheryl Tan

SINGAPORE - In a first, Temasek-owned investment platform GenZero will be investing in a forest restoration project in African nation Ghana that can generate carbon credits, which businesses in Singapore can potentially use to offset part of their carbon tax.
In collaboration with Singapore-based AJA Climate Solutions, GenZero will be investing "north of US$20 to US$30 million" (S$26 million to S$40 million) to restore about 100,000ha of degraded land in the Kwahu region of Ghana, said GenZero chief executive Frederick Teo on Thursday on the sidelines of the Ecosperity Week conference.
The funds will be deployed progressively across the project's two stages – with the first phase set to start in the last quarter of 2023 and the second phase in 2027.
Singapore's carbon tax, which is applicable to facilities producing more than 25,000 tonnes of greenhouse gas emissions a year, is set to increase fivefold to $25 per tonne in 2024 and $80 per tonne by the end of the decade.
Singapore-based companies can offset 5 per cent of their taxable emissions using high-quality carbon credits.
In addition, carbon credits that are traded under the Implementation Agreement between countries – Singapore and Ghana substantively concluded negotiations on the agreement at the United Nations COP27 climate conference in Egypt in 2022 – are eligible for such use.
Under these agreements, corresponding adjustments have to take place so that the avoided or abated carbon dioxide (CO2) emissions cannot be counted twice towards both Singapore's and Ghana's climate mitigation targets.--
--
The News Dept | 8 June 2023
by Jackson Root
Accra, 8 June. Singapore-based Temasek is investing approximately US$30 million in a major reforestation project in Ghana.
Authorities plan to replant about 100,000 hectares of devastated land in the Kwahu and Ashanti regions with cocoa and other plant species. The first phase of work will begin at the end of 2023, and the second in 2027.
In the middle of the last century, these areas were covered with dense green cover and fields, but in the last few decades the land has been extensively exploited for timber. The creation of a large lake in the 1960s led to the final felling of trees.
This decision not only had negative environmental consequences but also hit the economy of Ghana. The Republic is one of the world's largest producers of chocolate, but extensive destruction of cocoa plantations has damaged production.
Earlier, a similar program was developed by the authorities of the Republic of Togo. Environment Minister Foli-Bazi Katari said the project will affect public, communal and private lands with the goal of planting one billion trees within ten years.
--
The Edge | 8 June 2023
by Jovi Ho
Follow us on Facebook and join our Telegram channel for the latest updates.
GenZero, a Temasek-owned investment platform company focused on accelerating decarbonisation globally, has signed a memorandum of understanding (MOU) with AJA Climate Solutions (AJA), to invest in a landscape restoration project in Ghana.
The investment aims to restore degraded and deforested landscapes in the Kwahu area, while enhancing the lives and livelihoods of local communities, say GenZero and AJA in a June 8 statement.
AJA is a Singapore-based company focusing on scaling opportunities in the carbon market by generating and managing climate mitigation projects in Africa and Southeast Asia.
The signing took place on the second and final day of GenZero's inaugural GenZero Climate Summit, hosted in conjunction with Temasek's Ecosperity Week.
The Kwahu project builds on Singapore's intergovernmental partnerships on Article 6. In November 2022, substantive negotiations between Singapore and Ghana were concluded on the Implementation Agreement on Cooperative Approaches, which enables the bilateral transfer of carbon credits aligned with Article 6 between both countries.
Carbon credits traded under this Implementation Agreement, when completed, could potentially be used to offset part of corporates' carbon tax liability under Singapore's carbon tax, says GenZero. The project could mark a first for Singapore if it generates carbon credits with corresponding adjustments under this Implementation Agreement.
As announced at Budget 2022, Singapore's carbon tax is set to increase five-fold to $25 per tonne of emissions next year, with the goal of reaching $80 per tonne by the end of the decade.
Singapore's carbon tax applies to all facilities producing 25,000 tonnes or more of greenhouse gas emissions in a year. This covers large emitters, like oil refineries and power generation plants, which contribute 80% of Singapore's greenhouse gas emissions.
About the Kwahu project
The project is located in the greater Kwahu area in Ghana's Eastern Region, where there is a highland and lowland forest system that borders the Volta Lake. The project will regenerate an estimated 100,000ha of degraded lands, restore the landscape's biodiversity and transform it into an economically-productive ecosystem for the local indigenous population.
This will additionally create new income opportunities for the local indigenous communities through agroforestry practices training and job creation, and empower 22,000 members of the local community with the opportunity to actively participate in the farming system and improve their livelihoods.
Due to commence by 4Q2023, Phase 1 of the project will focus on regenerating deforested cocoa lands and rewilding off-reserve forests across Kwahu East, Kwahu South and Asante Akim North.
This will be followed by Phase 2 in 2027, which will focus on regenerating native tree species across degraded forests at the Kwahu Afram Plains. The project seeks to apply new methodologies under Verra and align with Article 6 of the Paris Agreement.
Why Ghana?
Ghana provides a conducive environment for nature-based restoration projects. GenZero says the country is rich with biologically-diverse forest ecosystems and productive agriculture and agroforestry lands, represented by a mosaic of forest reserves and national parks that are surrounded by farms and fallows.
Ghana's tropical climate and natural habitats resemble Singapore's natural ecosystems. However, climate change, along with deforestation arising from agricultural expansion and logging, has degraded the landscape significantly, resulting in the need for nature-based projects.
To stay ahead of Singapore and the region's corporate and economic trends, click here for Latest Section
From a governance and policy context, Ghana has been progressively developing its climate and carbon-related readiness, with a clear Climate Change Policy, comprehensive National REDD+ Strategy, committed Nationally Determined Contributions, and one of the first few countries globally to release a comprehensive Article 6 policy.
GenZero's investment into the landscape restoration project follows the expected agreement between Singapore and Ghana to unlock carbon financing for businesses, while advancing their respective climate ambitions. The Kwahu carbon project aims to generate carbon credits with corresponding adjustments, which are critical in avoiding the double counting of underlying emissions reductions or removals when carbon credits are traded.
Frederick Teo, chief executive officer of GenZero, says: "We are excited to work with AJA Climate Solutions to deliver meaningful climate action in Ghana. The team's deep understanding of the Kwahu region, along with their passion and commitment to making a difference gives us the perfect opportunity to showcase a new supply of carbon credits with corresponding adjustments. Our collaboration in Ghana represents an important effort to ensure the integrity, quality and transparency of the carbon credits that we develop, and bring about positive impact to the local community and ecology of Ghana."
John Mason, co-chief executive officer of AJA Climate Solutions, says: "This pioneering project offers a road map for restoring highly degraded tree crop landscapes at scale and in a manner that will return significant forest cover with biologically-diverse, carbon-rich and economically-productive agro-forestry systems for the indigenous population, while meeting the Article 6 Corresponding Adjustment priorities of Ghana and Singapore."