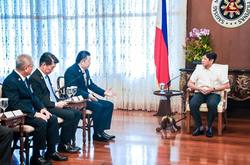 Officials of Charoen Pokphand Group (C.P. Group) pay a courtesy call to President Ferdinand "Bongbong" Marcos Jr. in Malacañang on Tuesday, May 30. (Photo from the Presidential Communications Office)
Manila Bulletin | 30 May 2023
Marcos welcomes Thai firm's interest to invest in PH agri-technologies

By Raymund Antonio
President Ferdinand "Bongbong" Marcos Jr. on Tuesday, May 30, promised that the government will do its role in supporting programs that would enhance the use of technology in boosting the country's agricultural sector as he welcomed investment opportunities from a leading Thai conglomerate.
The Chief Executive, who is also the agriculture secretary in a concurrent capacity, lauded Charoen Pokphand Group (C.P. Group), a Bangkok-based business conglomerate that plan to invest some $2.5 billion in agricultural technology development in the country.
Led by its chairman Soopakij Chearavanont, the company paid a courtesy call in Malacañang telling the President of the company's use of new technologies that it has been incorporating to boost the value of the agricultural sector.
"We know that the government has a part to play. It's not only the private sector partner. The government has a part to play to support the program and that's something that we have to decide," Marcos said, adding his intent to keep the momentum his administration has made in agriculture.
During the call, C.P. Group shared plans to expand its business in the Philippines, which would translate to investments worth $2.5 billion from 2023 to 2027 that would include swine ($1.3 billion), poultry ($280 million), shrimp ($800 million), and food ($120 million).
"We're very impressed with the new technologies that you use. I remember you told me that each plant farm you build is different from the last one because you immediately incorporate and adopt new techniques in technology," Marcos told the C.P. Group executives.
He also shared his aspirations of seeing the same replicated in the Philippines.
In November 2022, C.P. Group officials met with Marcos during his visit to Thailand, during which the company pledged to make additional investments in the Philippines.
The officials offered to bring state-of-the-art agri-technology, though the President said he would need to discuss with other stakeholders about a project to boost the production and resiliency of the agriculture sector in the country.
"We will discuss amongst ourselves with all the others, those who will be helping put together the project. We will certainly see what is the most ideal way," the President said.
The C.P. Group is now a leading holding company in Thailand, holding investments in 21 countries and economies worldwide, operating through more than 200 subsidiaries and employing over 300,000 people.
During the meeting, the company officials also requested government assistance in finding 400-hectares of suitable land for aquaculture (shrimp) and 300 hectares for swine and poultry, including eggs.
Among the officials who attended the meeting with C.P. Group executives were House Speaker Martin Romualdez, Deputy House Speaker and Pampanga 2nd District Rep. Gloria Macapagal-Arroyo, and Frederick Go, Presidential Adviser on Investment and Economic Affairs.
Private sector attendees included Sabin M. Aboitiz and Francis Chua and officials and representatives of the Asia-Pacific Economic Cooperation Business Advisory Council (ABAC) Philippines.