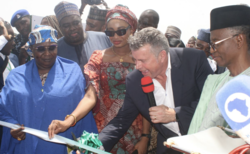 FoodBev Media | 30 May 2023
Arla Foods inaugurates €10m dairy farm in Kaduna, Nigeria

By Phoebe Fraser
Arla Foods has inaugurated its state-of-the-art dairy farm in Kaduna as part of the company's efforts to ensure sustainable milk production in Nigeria.
The farm, located in Damau village, Kubau Local Government Area, Kaduna State, was inaugurated by the Executive Governor of Kaduna State, Mallam Nasir El-Rufai.
Governor El-Rufai described the new dairy farm as a significant milestone and game-changer for the dairy sector in Nigeria, commending the management of Arla Foods for having faith and confidence in Nigeria and the Kaduna State Government.
He explained that the farm is another testament to the commitment of the Kaduna State Government to collaborating with private organisations and providing the enabling environment for businesses to set up and thrive in the state.
The Danish-designed dairy farm is the first of its kind in Nigeria and was created to ensure optimum animal welfare and productivity, showcasing sustainable milk production in Nigeria.
It covers 400 hectares of land, with the capacity to house 400 milking cows and 1000 animals in total. Currently, the farm is home to 216 Danish Holstein cows, which arrived in May 2023 and are settling into their new environment.
Arla Foods' International EVP, Simon Stevens, said: "This milestone symbolises what can be achieved with strong partnerships. We can see how the contribution of the Kaduna State Government, the Federal Ministry of Agriculture and Rural Development, NGOs, the farming community and many more have helped to deliver a big project."
"This achievement symbolises the massive potential we see in Nigeria and the exciting journey this country is on. We have been part of this journey for quite some time, and we are extremely committed to continuing to play a part and contribute to the development of the dairy industry."
Stevens added that the farm, delivered at an investment cost of €10 million, would serve as a place of milk production and an epicentre of dairy farming knowledge.
Danish ambassador to Nigeria, Sune Krogstrup, commented that the project demonstrates Arla Foods' commitment to boosting the local dairy segment of the agricultural value chain that would positively impact the economy of Kaduna State and contribute significantly to Nigeria's GDP.
Head of Arla Foods West Africa, Anna Månsson, said that the dairy farm is the first of its kind in Nigeria and is poised to define the future of dairy in Nigeria. She noted that more than 40 people would be directly employed at the farm, with expected milk production of 1.6 million kilograms in 2024 and a target of 4 million kilograms of annual milk production.