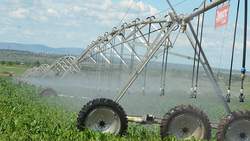 New Times | 9 March 2019
Gabiro Agribusiness Hub project to create 4,000 jobs

by Emmanuel Ntirenganya

Gabiro Agribusiness Hub Project (GAHP) plans to create of 4,000 jobs, 2,000 of which will be allocated to the local community, information from the Ministry of Agriculture and Animal Resources suggests.
The jobs are expected to generate an additional annual income of over $5 million (over Rwf4 billion) to the local community in the Eastern Province districts of Gatsibo and Nyagatare where it will be implemented.
GAHP aims to create a holistic and commercial agricultural ecosystem by developing an advanced modern value chain over approximately 15,600 hectares of arable land with advanced water infrastructure, cutting-edge irrigation systems, high-value agro-processing operations and other agriculture technology activities.
This
project
will be developed in phases where phase one requiring investment of approximately $73.9 million will cover 5,600 ha.
Last week, the government signed a $66.5 million (approximately Rwf60 billion) joint venture with Netafirm, an Israel-based global leader in the irrigation sector to develop the first phase of the project within 18 months. The government has a 90percent shareholding in the venture.
An estimated 1,402 households will benefit from the project by profiting from lease fees, and allocation of irrigated land.
There will be a centralisedGabiro operation and management centre that will be providingmechanisation and other off-farm services, and the project will offer jobs in scheme implementation, transport, maintenance, real estate construction [within its operations], and a long agriculture value chain.
GAHP will support the production of crops for local consumption (staple crops including maize), export crop (high-value crops such asorchards and vegetables) and agriculture-generated, value-added products (paste, powder, oil, among others) intended mostly for international markets. It will also support livestock especially in the community irrigation part of the project.
It is in line with Rwanda's ambition to increase resilience of agriculture to climate change effects through increasing irrigated farmland from the current 50,000 hectares to 102,000 hectares of crops by 2024, raise the agricultural productivity and exports as well as improve livelihoods of its residents.
"The project is expected to provide a new impetus to the green revolution," GerardineMukeshimana, the Minister of Agriculture and Animal Resources told Sunday Times.
"It also seeks to increase export of high-value crops and value-added agricultural products, and substantially increase employment and livelihood of the local community in the project area," she observed.
About 403 families will benefit directly through resettlement plan plus allocation of the equivalent land in the community land serviced with irrigation.
Théogène Manzi, Gatsibo Vice Mayor for Finance and Economic Development, said that it will boost the lives of residents through ensuring sustainable food production and job creation through irrigation and mechanisation of farming practices.
"The district has been largely relying on rain to produce food as farming is hindered by dry spells because of undeveloped irrigation practices. Having an activity that will use reliable technology to irrigate crops is a relief as it will ensure that farmers get good yields even during drought," he said.
Components of the project
GAHP will be comprised of three main units. They include real-estate management to deal with land lease agreements to private sector, collecting yearly land lease fees and dealing with land owners.
The Infrastructure Management Unit will be about managing, maintaining and operating the water infrastructure. Collecting monthly payments for water and management fees.
Operations Unit will deal with sales of agricultural services (extension, installation, manpower, among others); post-harvest services (cold storage, packing and sorting); and sale of agriculture inputs (such as seeds, fertilizers, tools and crop protection).
GAHP aims, among other objectives, to de-risk private sector investment in agriculture, hence a need for government investment, attract significant foreign investments to Rwanda in large scale commercial farming and crop processing plants.