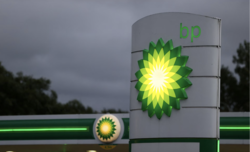 BP is considering investing directly in farming what are known as cover crops its rival Eni has already invested in building large feedstock farming operations in Kenya. (Photo: Reuters/Lee Smith)
Reuters | 17 May 2023
BP targets farms and feedstock as biofuel race gathers pace
By Ron Bousso
LONDON, May 17 (Reuters) - BP is considering buying stakes in biofuel feedstock producers and investing directly in farming ventures to secure supplies as the global race for the low-carbon fuel gathers pace, a senior executive told Reuters.
Fuels made from vegetable oil, waste cooking oil and grease are expected to play a central role in reducing greenhouse gas emissions for the truck and aviation sectors where alternatives such as batteries and hydrogen remain elusive.
BP said it will increase biofuel output three-fold by 2030 to 100,000 bpd, or roughly 4.5 million tonnes per year, according to Reuters calculations.
The tripling is in line with forecasts from analysts at Barclays that predict global biofuel demand of 30 million tonnes by the end of the decade, compared with some 10 million tonnes now, and today's crude oil demand of around 102 million bpd.
To reach its target, BP plans to construct by 2030 five biofuel plants processing "unloved" waste feedstock, known as HEFA, BP head of biofuels Nigel Dunn said in an interview.
"They make perfect feedstocks for HEFA. The problem is there's only so much of them in the world. And the more HEFA plants that get built, the more challenging the dash for those feedstocks is going to get."
The premium biofuels are two to four times more expensive than today's fossil fuel-produced fuels and costs could rise further as producers struggle to tap feedstocks over the coming years.
BP will "almost certainly need" to acquire stakes in feedtocks manufacturers to secure supplies as competition intensifies, Dunn said.
"We are going to be in as an integrated chain... That's our business today in fossil (fuel) and I think that's going to be the winning way."
As the European Union has banned biofuels produced from feedstock that can be used as food, BP is also considering investing directly in farming what are known as cover crops grown during fallow periods between two food crop cycles without compromising the health of soil.
"I believe that cover crops and novel feedstocks are going to need to be part of the mix if we're going to be successful," Dunn said.
BP rival Eni has already invested in building large feedstock farming operations in Kenya.
Globally, about 30 million tonnes of waste are available as feedstock for biofuels, Joshua Stone, refining analyst at Barclays, said.
Given the predicted tripling in demand for biofuel by 2030, he said the feedstock markets would be under pressure.
"The only ones who will come out well are those who have access to feedstock," Stone said.
BP will decide whether to approve construction of its first HEFA plant in Australia by the end of this year, with the intention to start production in 2026, Dunn said.