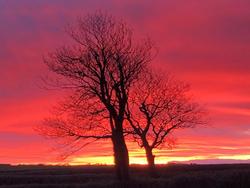 Wales Farmer | 17 May 2023
'Scandal of corporate tree planting should be stopped'
By Debbie James
A Welsh lamb producer is calling for an end to mass tree planting to achieve corporate carbon offsetting goals after four farms in his community were snapped up by investors from outside agriculture.
Philip Arrowsmith farms at Abergwesyn, Powys, where he says a steel manufacturer has bought a 1,200-acre sheep and beef holding to plant with trees to offset its own carbon emissions.
Three other farms in the community have also been bought by investors.
Mr Arrowsmith said farmers were being outbid for land and much of the acreage that had been bought in his area had now been planted with trees.
"It's impossible for farmers to compete,'' insisted Mr Arrowsmith, who runs a flock of 2,500 ewes on 1,000 acres of upland.
He has five years left to run on his tenancy and when he retires he fears for the future of that too.
Mr Arrowsmith described the change of use of land from food producing to growing trees as "absolutely scandalous'' and called for a halt.
"A steelworks planting trees to offset its emissions isn't solving the climate problem because we will have to import food from abroad to make up the shortfall of what we are no longer producing on that land,'' he said.
He called for a halt to mass planting, insisting that it was "irreversibly destroying'' farming communities, displacing young people off the land and forcing them to leave rural areas to find alternative sources of employment
His concerns have shone a spotlight on the ethics of making land available for tree planting to meet the off-setting objectives of others.
NFU Cymru County Adviser Stella Owen said the approach had allowed large corporations to adopt the mindset of "business as usual''.
That was damaging to the economic, social and cultural well-being of the communities affected, she suggested.
"NFU Cymru believes that climate goals should be met in ways that are sustainable and fair,'' said Ms Owen.
"This is best achieved by integrating trees into farming systems rather than replacing them.''
She added that the union had been clear that the "burden of decarbonisation'' should not fall unequally on rural communities.