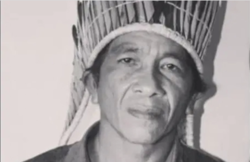 Lúcio Tembé, chief of the Turé-Mariquita village in Tomé-Açu, northeastern Pará. (Image courtesy of Paratê Tembé)
Mongabay | 16 May 2023
Indigenous chief shot in head in Brazil's 'palm oil war' region; crisis group launched

by Karla Mendes
A prominent Indigenous leader was shot in the head on May 14 in the Brazilian Amazon, intensifying the cry for justice in a dubbed "palm oil war" region where violence against land activists keeps systematically soaring without punishment, and prompting the launch of a crisis committee to investigate the crime.

In the early hours of Sunday, Indigenous chief Lúcio Tembé was shot by two gunmen when he and another Indigenous man were trying to dig out a car that was stuck in the mud of an unpaved road on their way back from the town of Quatro Bocas to the Turé-Mariquita Indigenous Territory, in northern Pará state, Indigenous leaders say.

Lúcio Tembé's niece, Queila Tembé, related to Mongabay the details of the crime that the Indigenous person accompanying her uncle shared with the Tembé people. "At that moment when he [Lúcio Tembé] was standing still, these two hooded thugs arrived, shone a flashlight on him and shot him in the head," she said in an audio message. "Then the Indigenous accompanying him jumped out in front of him to try to save him. You can imagine that they [the thugs] thought that since they hit him on the head, that he was dead. So they got on their motorcycles and headed toward the village."

She said she knew about the crime through phone calls from relatives and they went together to the reported place, where they confirmed it was true. "I felt very sad, and at the same time, outraged about what had happened. The family's reaction is one of great revolt." Lúcio Tembé is in an intensive care unit, she added, in the metropolitan region of Pará's capital, Belém, and his health situation is stable as he awaits surgery, which is expected for May 16.
In an emailed statement, the Federal Police said it opened an inquiry to investigate the crime, and a team has already been sent to the site to make an initial survey, complying with a request from the Federal Public Ministry (MPF). MPF called an emergency meeting with several authorities in Pará for May 15; the creation of a crisis committee to contain escalating conflicts in the region was announced on May 16.
This is the latest episode of violence in an area facing an outbreak of land conflicts between a major palm oil company and local communities, the so-called "palm oil war," as reported on by Mongabay since October.
In the past three years, Mongabay has published investigative stories revealing land-grabbing accusations, violence, water contamination and other environmental crimes attributed to palm oil companies in Pará.
Specifically in the Turé-Mariquita region, Mongabay published in 2021 an in-depth 18-month investigation revealing evidence of water contamination from pesticide use by palm oil company Biopalma — now Brasil BioFuels S.A. (BBF) — that has impacted not just the Tembé people of Turé-Mariquita but also other Indigenous lands, Afro-Brazilian Quilombola communities, ribeirinhos (traditional riverside communities) and small farmers. The investigation also unveiled other issues triggered by oil palm crops in the region: soil pollution, deforestation, scarcity of fish and game, along with health issues and social and land conflicts.
Lúcio Tembé was our local guide and a key source to the investigation. "The oil palm only brought a lot of problems. First of all, it brought destruction of our fauna, our flora, our rivers," he said in the 2019 interview as he looked out over the Turé River. "This water isn't clean. But in the past, we drank it. This river and the forest around it were like a supermarket for the population; it was where we fished, where we hunted."
The chief told us the Tembé people were not properly consulted before Biopalma's oil palm venture got up and running. "We were not listened to for this project; when we saw it, the project was already established around our territory."

During Mongabay field reporting in the region in late 2019, the reporting team barely evaded a high-speed robbery when they were pursued by men on two motorbikes on the same path where Lúcio Tembé was shot May 14 while returning from Turé-Mariquita to Tomé-Açu at night.
The investigation helped federal prosecutors obtain a court decision to scrutinize the environmental impacts of pesticide use by BBF in oil palm plantations on Indigenous communities and the environment in the state. This investigation won second prize in the Society of Environmental Journalists Awards for Outstanding Investigative Reporting and third prize in the Fetisov Awards for Excellence in Environmental Reporting.

Palm oil-linked conflicts
Conflicts between local communities and palm oil firms in the Tomé-Açu region go back a decade. November 2015 saw the first major mobilization of Indigenous people, Quilombolas, traditional riverside dwellers and residents of neighboring communities against palm oil firms. About 140 people came together and occupied Biopalma's Vera Cruz headquarters, paralyzing the company for 11 days. Lúcio Tembé was one of the leaders of the occupation. One Quilombola leader was jailed for eight months; the Indigenous chief was also arrested.
However, violence escalated in the region following Biopalma's sale to BBF in 2020, community leaders and authorities say, as previous agreements between Biopalma and the communities have reportedly not been honored under the new ownership. There are also land disputes over areas claimed by both sides.
But it has grown even worse since September 2022, with escalating violence triggered by land disputes between BBF on one side and Indigenous and traditional communities on the other. While communities argue that BBF unduly occupied their ancestral lands and accuse the company of using its security guides for violent attacks against the communities, the company denies the accusations, saying it's the local communities that attacked its employees instead. As a result, BBF filed more than 750 police reports since 2021 against them for "robbery, theft, arson, attempted rape, aggression against workers, attempted murder, firearm shooting, among others," the company said in a statement to Mongabay in late April related to a conflict with Quilombolas.
As previously reported by Mongabay, the MPF is investigating the action of armed militias and private security companies in the region and possible crimes and irregularities by these companies.

In a May 14 news release, the MPF said "it is possible that this is another episode of violence that the Tembé Indigenous people of Tomé-Açu are suffering because of conflict with palm oil companies in the region, which requires the actions of federal agencies, considering that the dispute involves collective rights of Indigenous peoples."

BBF did not respond to Mongabay's request for comment about accusations of its eventual involvement in the attack against Lúcio Tembé.

The MPF said it requested urgent measures to the Federal Police and Pará's State Department of Public Security and Social Defense (Segup) in order to clarify the attempted murder of an Indigenous leader."The Federal Police authority is requested to give urgency and priority to the fulfillment of current and future investigative measures in the police investigation in question, in view of the intense level of conflict in the northeastern region of Pará, with concrete risks to the Indigenous people's life and physical integrity," federal prosecutor Felipe de Moura Palha, chief of the MPF unit in Pará, wrote in the request.

In an emailed statement, Segup said Civil Police and Military Police teams worked on Lúcio Tembé's case adding that it is being investigated by the Quatro Bocas police station. "At the moment, investigations are being carried out in order to collect all traces and evidence that can contribute to the elucidation of the crime and the identification of those responsible," the statement said, urging that any information that could help the investigations be forwarded via the hotline 181 under guaranteed confidentiality.

Indigenous leader Miriam Tembé, Lúcio Tembé's cousin, urges for justice to put an end to impunity in the region. "We are anguished and we ask for help, we ask that justice gives us an answer because there is so much impunity, violence is happening, attacks against us, and nothing is being done," she told Mongabay in a text message.

"Our feeling is of revolt and injustice, we see no support from the state and competent bodies in our favor," said the leader, who is the head of the Acará Valley's Tembé Indigenous Association. "So much violence against us traditional peoples and justice does not act. Will more lives have to be lost for something to be done?"
'That's enough'
"For the MPF, that's enough," Palha, the chief prosecutor in Pará, said in the meeting, according to a May 16 news release. "This is yet another sad episode of serious human rights violations in the Amazon. Every process of implementing large projects needs to be reviewed and take into consideration the rights of traditional communities that are vilified on a daily basis." Regarding the attempted murder of the Tembé chief, Palha said, "It is still too early to point to the culprits" but the MPF "will closely monitor the investigations."
In a video manifesto, Indigenous leader Paratê Tembé, Lúcio Tembé's son, said very emotionally: "We only ask for justice so that this does not continue to happen, both in our region and throughout Brazil, the massacre of the Indigenous people. We ask for state intervention for the life of our people."
"We want to protect the forest and save our lives. Save the lives of our warriors, our leaders, our caciques, our children, who are at risk," he said in a May 15 video, adding that "there is no standing tree if we are not alive" and "we want to save our lives too."
Paratê Tembé recalled decades of assassinations of Indigenous, Quilombola and riverbank leaders without anyone being arrested. "We denounce it to everyone and nobody does anything. They are only sensitive when there is an assassination attempt or someone dies."
Recalling the details of the crime, he said his father survived "by some miracle." "We are praying and we continue praying that he survives the surgery. Tupã [the supreme god in Indigenous Tupi language] will help us. We didn't even have time to cry," he said in tears. "We need, we need protection."