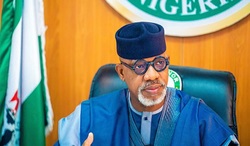 Governor Dapo Abiodun of Ogun State
The Nation | 14 May 2023

Abiodun: Egypt to invest in Ogun Agro Processing Zone
Governor Dapo Abiodun of Ogun State has disclosed that the Government of the Arab Republic of Egypt, under its Food Security Plan, has shown interest in the Agro Processing Zone located in the Gateway International Agro Cargo Airport, along Iperu-Ilishan Remo Road in the state.
According to the governor, the North African nation had signified interest to farm its plantations in the zone, planting crops, process the produce, and also export the proceeds back to the home country.
Abiodun, who added that the representatives of the Egyptian Government would be coming to Ogun very soon and finalize the details of their investment, gave this disclosure during an interactive session with the All Farmers Association of Nigeria (AFAN), Ogun State chapter, in Abeokuta, at the weekend.
"Last week I met with the National President of the Rice Farmers Association in Abuja, it is a good opportunity for me to inform you that he is working with a team of Egyptian farmers from the Egyptian Government who have the policy of food security and they identified Ogun State as one of the states they will like to partner with.
"So on the 16th of this month, the representatives of the Egyptian government in agriculture will be coming to Ogun State.
"They have done their research and were convinced that Ogun State is one of the states that is strategically located for them to invest in, to farm, to process and to export," Governor Abiodun stated.
While noting that his administration was poised to encourage foreign and local agric investors to partake in the out-grower scheme where land will no longer be allocated to them but to local farmers and other interested parties in the state, he declared "it is the belief of this administration that the idea would further help to empower farmers in the state".
On the request by the Ogun State AFAN that the state government should help members get agriculture-related grants either through the Central Bank of Nigeria or other sources in the country, Abiodun urged the association to keep their ears to the ground, promising that as soon as his administration gets wind of such opportunity, it will take full advantage of it.
He, however, informed the farmers that his administration would look into the proposal by the Association on the need to have an Ogun State-owned Anchor Borrowers Programme, promising to also look into the possibility of having members of the association appointed to agriculture-related government agencies.
Earlier in his remarks, the Vice President of the All Farmers Association of Nigeria (AFAN), Prince Segun Dasaolu, who led members of the association on the visit, congratulated Governor Abiodun on his well-deserved victory at the governorship polls, noting that the association is happy with the outcome of the election.