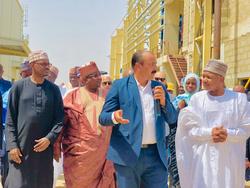 The Sun | 14 May 2023
Kebbi Govt allocates land for establishment of Rice Academy by WACOT
by Olanrewaju Lawal, Birnin Kebbi
Kebbi State Government has approved the allocation of land to WACOT for the establishment of a Rice Academy in Suru Local Government area.
Governor Abubakar Atiku Bagudu announced this after facility tour round the second WACOT rice mill under construction together with the state governor-elect, Dr. Nasir Idris, Kauran Gwandu in Argungu.
Bagudu commended the company for enhancing rice production and investment drive in Kebbi state.
The governor acknowledged that WACOT Rice Mill has become the single largest mill in Africa, recalling that the mill was the first major plant to be commissioned by the Buhari administration in Nigeria.
He expressed gratitude to President Muhammadu Buhari for approving the establishment of Agricultural Mechanisation Workshop and Skill Acquisition Centre in Kebbi state.
Senator Abubakar Atiku Bagudu described the people of Kebbi state as good partners, expressing happiness that WACOT has recovered ninety-nine percent of the loan provided to rice farmers to maximize production.
The Governor further commended the company for its immense contribution to the attainment of food security in Nigeria.
In a remark, the governor-elect, Dr. Nasir Idris, said as a labour leader, he was overwhelmed by the magnanimity of WACOT to provide massive employment to indigenes of Kebbi state, thereby reducing unemployment and enhancing wealth creation.
Idris commended Governor Abubakar Atiku Bagudu for providing an enabling environment within which WACOT has been operating peacefully and successfully in the state, pledging to sustain partnership with the company.
The Chairman of WACOT, Mallam Farooq Gumel said work on the second rice mill of the company neighboring the first plant, has reached ninety five percent completion and was expected to be commissioned within the next months.
Gumel thanked Governor Abubakar Bagudu for his unrelenting support to the company to operate with full capacity and extended similar appreciation to RIFAN for galvanizing rice farmers to increase yields desired as raw material by the plant.