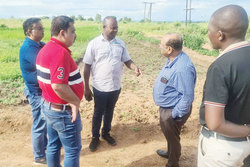 Salima Sugar Company officials
Times News | 17 April 2023

Salima Sugar offers 3,500 hectares for mega farms
By Wezzie Gausi:
As the government continues to hunt for land to establish mega farms in the country, Salima Sugar Company has offered 3,500 hectares of its 5,000 hectares that are lying idle towards the cause.
Salima Sugar Company Board Chairperson Wester Kosamu told The Daily Times that the company has all the capacity to run the mega farm.
He said they have built-in structures for irrigation and fertiliser application.
"As such, it won't be a problem to start farming. In total, we have about 5,000 hectares of land that are lying idle at the company. Being a company with all the resources, we thought it wise to collaborate with the government in the implementation of the mega farms.
"We have enough trained people that will be able to work on the farms perfectly well. We are located near the lake, such that water supply issues will not be a challenge," Kosamu said.
Agriculture Minister Sam Kawale did not pick our calls when we tried to reach out to him several times.
However, in 2022, President Lazarus Chakwera directed the Ministry of Agriculture to ensure that the country has at least a mega farm within six months of his directive.
But, in July last year, the government, through the Ministry of Agriculture, withdrew an advert in which it invited private sector players to express interest in establishing mega farms.
According to an invitation for expression of interest to establish mega farms published in the local press, the ministry had identified 10, 00 hectares of land in Nkhotakota and Mchinji to turn Dwambazi and Chimwamkango estate, respectively, into mega farms.
The invitation indicated that the Dwambazi land would be used for raising beef cattle while the Chimwamkango land would be used for growing valuable crops.