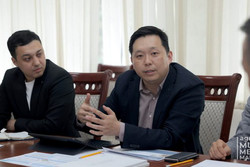 UzDaily.com | 17 April 2023
New investment projects in the agricultural sector discussed
Deputy Minister of Agriculture of the Republic of Uzbekistan Umid Mamadaminov met with the leadership of the cotton and textile cluster, created on the basis of investments from the Korean corporation POSCO International.
During the meeting, company representatives presented plans to expand activities in the next 3 years and implement investment projects worth US$196 million. It is envisaged that the projects will be implemented in Tashkent, Kashkadarya and Ferghana regions.
Also during the talks, issues of allocation of areas for growing cotton in areas where new projects are planned, as well as the use of drylands with the use of water-saving technologies were discussed.
In addition, the parties exchanged views on the possibility of returning abandoned agricultural land in Kasan district of Kashkadarya region to circulation and ways to use it effectively.