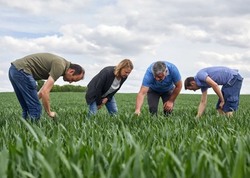 Fresh Plaze | 31 March 2023
Colruyt Group and Odeurs brothers work together on the crops of the future

In Kerkom, close to Sint-Truiden, a constructive cooperation between family business Odeurs and Colruyt Group has been in place for two years now on a cluster of farmlands. Where Colruyt Group provides financial support and makes its farmland available, the Odeurs brothers add value with their extensive knowledge of land, crops and agricultural machinery.
The cooperation also leaves space for innovative projects. In fact, a pilot project is currently up and running with the support of agricultural expert Arvesta to explore the options of growing black beans as "food of the future". A beautiful and positive case that shows how truly Belgian initiatives are developed, while contributing to the sustainability and innovation of agricultural land, crops and cultivation concepts. And at the same time a unique way of working together, with a lot of potential for the future.
Promising cooperation in Kerkom, Limburg

Two years ago, Colruyt Group bought good quality agricultural land in Kerkom, near Sint-Truiden. This purchase fits in with the retail group's ambition to invest in Belgian agriculture by – for instance – investing in its own farmland. In doing so, the focus lies explicitly on cooperation with farmers: together building initiatives that contribute to the sustainability and innovation of farmland, crops and growing concepts. This is unique for a retailer.
The farmer's expertise, experience and input is essential in these partnerships. That is why Colruyt Group is always on the lookout for interested professionals. In this story in Limburg, several farmers spontaneously came forwards. The modern family business Odeurs, with experts Gunther and Koen Odeurs at the helm, were selected as independent entrepreneurs to be partners for further processing and optimising this cluster of adjacent land in Kerkom. In 2020 a cooperation agreement was concluded. Meanwhile, the brothers, who are experts in their field and whose specialisations include potato cultivation, set to work with great positivity and enthusiasm, together with the specialists within Colruyt Group's agricultural team.
A win-win for both parties

The land of the Odeurs brothers is located next to that of Colruyt Group, which allowed for increased efficiency: the same machines are now used on a larger area, for example. The farmers thus enjoy economies of scale by working the extra land at their disposal and can generate additional income without having to invest in fields themselves.
Gunther Odeurs, who - besides being a farmer - is also a lecturer at the agricultural college: "As independent farmers, we grow various crops on Colruyt Group's farmland. This cooperation allows us to expand the activities of our own farm, without having to make heavy investments in fields ourselves. Clear agreements and regular consultation form the basis of this partnership."
For more information: press.colruytgroup.com