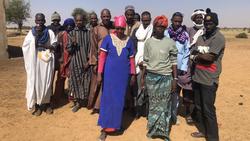 Bayal Obou, centre, wearing brown, says his life has been impacted by the arrival of agribusiness (Photo: RICHARD ASSHETON FOR THE SUNDAY TIMES)
The Sunday Times | 26 March 2023
How land became the new oil and the poor lost out
Richard Assheton, Ndiaël
On one side of a ditch in northern Senegal a group of thin cattle graze on ochre scrub untouched by any sign of the modern world.
"We want to stay here eternally," says Bayal Obou, 59, a herdsman who has never lived anywhere else. He is unlikely to get his wish. On the other bank, 20ft-high irrigation stands spew water onto a flat field that is vast, green and plush: the picture of 21st century agribusiness.
All over the planet disparate worlds like this are colliding. The explosion of
Earth's population
past eight billion has raised demands for food and water higher than ever when climate change is shrinking lakes and shrivelling farmland.
In this new age of food insecurity rich nations and individuals have embarked on a global rush for land, buying up millions of acres in faraway places and diverting their resources home.
The Land Matrix, a non-profit group that tracks large international land acquisitions, recorded 1,865 such deals between 2000 and 2020, totalling about 33 million hectares, an area about the size of Germany.
"What we're seeing is food and water are becoming this century's oil," Nate Halverson, an investigative journalist and the central figure in a forthcoming documentary on the subject, The Grab, said. "Governments are subsidising and taking geopolitical actions to ensure their people and their countries have access to these resources."
Competition for food and water, intelligence sources warn, could spark the next world war. Arguably it has already contributed to one conflict of global significance. The film, directed by Gabriela Cowperthwaite, maker of Blackfish, the documentary about captive orcas, details President Vladimir Putin's enthusiasm for turning Russia into a
global breadbasket
.
Ukraine had a 29 per cent share of the global grain trade before Putin ordered his troops across the border and Russia, Halverson noted, has been publicly mooting the idea of a "grain Opec" for a decade.Putin has visited huge Russian cattle farms, which are hiring American cowboys as vast tranches of the country thaw due to climate change. "We will feed all the world," says the head of one farm in the film.
Halverson said: "I've been told by Russians directly they intend to use food as a geopolitical tool, giving them power going forward." Controlling Ukrainian farms as well as its own would make Russia the world's biggest food exporter.
Other powers are using simple land deals to get what they need, treating food as a new national security priority. American cables on Wikileaks show that before his death in 2015 King Abdullah of Saudi Arabia was urging local companies to search for water abroad, after much of the country's groundwater ran out.
The Muslim world was rocked by the Arab Spring more than a decade ago, which began with bread riots. Saudi Arabia and the United Arab Emirates (UAE) are big foreign land buyers, including in Arizona, where laws do not restrict access to aquifers (groundwater sources). Sheikh Tahnoon bin Zayed, the UAE's national security adviser, has orchestrated its acquisition of land across Africa, emails cited in The Grab show.
China's water supply is also precarious. According to the film, Chinese companies have enlisted the help of Erik Prince, the founder of the notorious private security firm Blackwater, whose Frontier Services Group provides the muscle needed to run farms in often-hostile parts of Africa.
The impact of all of this land accumulation has been felt most keenly in the developing world, and on the environment.
In 2021 The Land Matrix reported that the acquisition drive "continues to destroy rainforests, natural habitats, and biodiversity on the agricultural frontiers of the Amazon, Southeast Asia, and the Congo Basin". The people who live in those places are often the losers. The organisation said: "scant consultation with the affected communities is common".
Renée Vellvé, co-founder of Grain, a group that campaigns on food sovereignty, said: "Most communities don't learn about these deals until the bulldozer is outside the window . . . Communities are treated like chess pieces: they can just be moved around."
Particularly vulnerable are those in Africa, the focus of many of these land deals, where communities often have no deeds to back up their land claims. The world's second-largest continent holds between 50 and 60 per cent of unexploited arable land and its agricultural output is set to nearly quadruple to $1 trillion annually by the end of the decade.
One man aspiring to play a leading role is Frank Timis, a Romanian-Australian entrepreneur with two convictions for possession with intent to supply heroin whose last known base was a £14,000-a-month penthouse in London.
An energy company that Timis founded was hit with a record fine in 2009 from the London Stock Exchange for misleading investors over dry wells. The anti-corruption organisation Transparency International has called for six countries to investigate claims that Timis illegally secured Senegalese oil and gas concessions worth up to $12 billion. He denies any wrongdoing.
Timis now wants to "deliver protein to the world" and has set up African Agriculture Inc (AA), a company he hopes to take public on Wall Street this year, with a valuation of $450 million and initial investors including the giant US conglomerate Koch Industries.
AA's chief executive, Alan Kessler, said that the company planned to farm "from South Africa to Madagascar, North Africa, Central Africa, Niger, to all over the Sahel", becoming one of the world's top suppliers of the cattle feed crop alfalfa.
They have started in the dusty, acacia-scattered reserve of Ndiaël. Here, communities have fought a decade-long campaign against the sale of 20,000 acres of the reserve, which were declassified by the Senegalese government and handed to an Italian company. In 2018 Timis took on the lease. Kessler said AA was now the largest producer of alfalfa in west Africa, and has begun sampling for export.
On the hard floor of his breezeblock home, in a tiny cluster of straw huts that make up his village in thecentre of the reserve, the herdsman Obou and 11 other men said their people had suffered innumerable losses since the land was sold. Children had drowned in irrigation canals, he said, ancient herding routes had been blocked and women had to wake up at 3am to walk miles for the only work, in the new fields.
With expanses of fenced fields and ditches all around them, as satellite images show, they said they had received the message loud and clear that they should leave.
But they refuse.
He and the villagers are represented by a group claiming to speak for 37 communities that are home to more than 10,000 people, the Collective for the Defence of the Ndiaël Lands, which last year filed a petition to the Senegalese government.
Timis' people told a different story. Kessler said AA was "glorified by the communities we're in", claiming critics such as Obou represent a few "outliers". AA's head of media, Maxine Gordon, asked for the names and locations of those who had spoken to The Sunday Times.
Kessler said AA was the biggest employer in Ndiaël. The company said it allocated about 2,000 hectares of land to villagers each season to grow rice, while handing out alfalfa for livestock feed. It runs social projects including sonogram clinics for pregnant women, the provision of toothpaste and a football tournament, it has built a school and has plans to support the building of a mosque.
Kessler said irrigation canals were built by its predecessor, and asked for evidence of children drowning. AA said it has set up passageways for animals to move, and said villagers can be seen bathing and playing in water sources in the area. Kessler said no one was being pushed to leave, describing as "fallacious" suggestions otherwise.
Of the community's claim to the land, Kessler said the Senegalese government had "blessed" the farming project. He said: "We recognise that obviously people based on ancestral claims have got claims to land all over the place, right?. . . I'm sitting in New York today and it actually originally belongs to a tribe, before [the Dutch colonial governor of New York] Peter Stuyvesant purchased it. How are those claims, and then who owns the world, right?"
Obou just wants his home back. "What we demand is simple," he said. "Leave us here to live peacefully, to bring up our children, our sheep and our cows."
@RichardAssheton
Reprinted with permission of the publisher