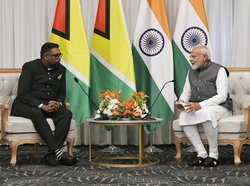 Mint | 18 March 2023
Guyana offers 200 acres of land for exclusive production of millets
NEW DELHI: Guyana President Mohamed Irfaan Ali on Saturday offered 200 acres of land in his country for exclusive cultivation and production of millets in honour of the United Nations declaring the year 2023 as the International Year of Millet (IYOM).
He said, India in exchange will provide technology and technical support for enhancing the farm production and productivity of this wonder food.
Mohamed Irfaan Ali also lauded Indian Prime Minister Narendra Modi for organizing the First Global Millets (Shree Anna) Conference at PUSA, New Delhi and said this Conference will go a long way in addressing the world's foremost challenge of food insecurity.
He said millets are not only an affordable and nutritious option, but this group of crops are also resilient to climate change vagaries. He promised all help in the production and promotion of millets in the 17 Caribbean countries, which will popularise millets in the Caribbean community.
Irfaan Ali added that India is the global Leader both in the production and export of millet and can play a leading role in the global production and popularisation of millet.
In another video address, Ethiopia President Sahle-Work Zewde heartily congratulated Prime Minister Narendra Modi for organising this Global Conference on Millets and said that it will galvanise the governments of the world and the policymakers for the promotion and production of miracle millets.
Sahle-Work Zewde said that millets will go a long way to not only address the food security challenges of Sub-Saharan countries like Ethiopia but also the entire African continent and the world.
She said the ideas from this conference will also help shape the sustainable development goals of 2030.