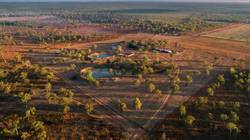 The 89,000ha of well-grassed, undulating country on Watson River is currently running 2400 quality Brahman breeders which are included in the sale.
Beef Central | 13 March 2023
Corporate Carbon purchases three Cape York properties, starts agriculture arm
One of Australia's largest carbon aggregators has added three properties to its Cape York portfolio and launched an agriculture company to manage the cattle side of its operation.
The Holroyd River aggregation – consisting of Holroyd River, Crystalvale and Yarraden, east of Coen – is the latest Cape York purchase made by Corporate Carbon. (Keep an eye on AgProperty Central for more details on the transaction)
With the company now having a 522,000ha holding in the Cape after it purchased Watson River last year for $12m, it has launched an agriculture arm called Paniri Agricultural Co. Paniri will use agriculture, mostly cattle, to compliment its existing carbon projects.
The company also a footprint in the Northern Territory, purchasing Ban Ban Springs for $28m last year.
Corporate Carbon and Paniri Agricultural Co managing director Gary Wyatt said the company had a responsibility to the land and local communities, taking a local-first approach and long-term view in the transformation of its broader portfolio of 1.3 million hectares to sustainable agriculture.
"As a company that's been engaged in the carbon farming industry from the very start, we've combined this experience with the best in agribusiness, creating a unique opportunity for us to drive positive impact at scale with Paniri Agricultural Co," Mr Wyatt said.
"It's our view that agriculture and the environment can exist in balance, where our approach will reduce emissions while improving agricultural production – promoting sustainability by increasing biodiversity and improving the soil, pastures, natural vegetation and ecosystems."
Working with communities
The carbon industry has been accused of locking up land in the past and last month former chief scientist Professor Ian Chubb, who headed up a review of the industry, said its communication with local communities needed to improve.
Rory Whitefield, Corporate Carbon chief agribusiness officer, has been appointed chief executive officer for Paniri Agricultural Co, bringing 26-years of agricultural experience across cattle production, law and natural asset management.
Mr Whitefield said the company was keen to improve agricultural outcomes
"We will be working to continue the existing cattle operations and carbon projects on both Watson River and the Holroyd River aggregation.
"Like all our properties, we take a local-first approach across our operations, looking first to retain existing staff, contractors and suppliers and to work with local communities through employment and economic opportunities for local business and industry, as well as support for and involvement in community events.
"The regeneration and protection of the natural environment is also a major priority for us, including proactively managing invasive pests and weeds to enhance our ecosystems."
Former owners managing Holroyd River
Watson River station was under previous ownership by the Quartermaine family for 35-years before it was purchased by Paniri Agricultural Co, who have appointed Luke and Ally Quartermaine as regional managers across Northern Queensland operations.
Located in Cape York, Luke and Ally oversee approximately 522,000 hectares, which includes a growing cattle business, savanna fire management, upskilling staff on the ground and guiding community engagement.
"Paniri Agricultural Co's emphasis on meaningful agriculture closely aligns to our vision for the region, which is encouraging. There is enormous potential in Cape York, with quality cattle and talented people doing great work that we look forward to growing," said Ally.
"We're cattle producers at heart and are passionate about the future of our industry. By marrying these practices we have the opportunity to better the agricultural industry and create a positive impact for our herd, land and environment," added Luke.