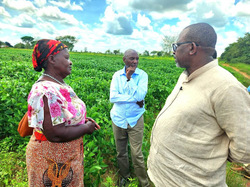 Agriculture CS Mithika Linturi with PS Harsama Kello during a tour of a farm in the Mazabuka District of Zambia last week
The Star | 8 March 2023
Kenya gets more fertile land in Zambia to grow maize for food security
More fertile soil and favourable weather conditions have pushed the government to seek land in Zambia to grow maize to feed Kenyans.
Kenya has already inked a deal with Zambia and secured 20,000 hectares of land for large-scale growing of maize in the Central African nation.
The aim is to set the land aside for Kenyan farmers who will grow the crops which will be exported to Kenya after harvest.
Agriculture Principal Secretary Kello Harsama says climate change problems forced the government to consider the deal.
"We are really hit hard by drought and we have to think outside the box," Harsama said.
While signing the MoU in Lusaka, Agriculture CS Mithika Linturi said the move will help in achieving food security by allowing Kenyan farmers to get permits to grow maize in Zambia to feed Kenyans.
"The government will do everything possible to bring down the cost of food by adopting creative measures like such collaborations. I am happy that the government of Zambia is willing to offer Kenyan farmers farm blocks where they can produce food for export markets," Linturi said.
He added that the government is working on a modality to ensure the cost of food is affordable to the common citizen.
His Zambian counterpart Reuben Mtolo said Zambia's weather patterns are favourable for food production which will benefit Kenya's desire to achieve food security.
"We have agreed to allow Kenyan farmers to start large-scale farming in Zambia and export their harvests to Kenya. We have one of the best farms and weather in Zambia which is favourable for farming and it will be beneficial to Kenyans," Mtolo said.
The move comes in the wake of a maize shortage in the country that has seen prices of maize flour increase from between Sh170-Sh200 per two-kilo packet last week to Sh180-Sh220.
Linturi warned farmers who are hoarding maize as they wait for higher maize prices to release their yields.
He said those farmers who are hoarding maize in Kenya are doing injustice to Kenyans. The CS assured that soon there will be sufficient maize in the country which will help reduce the cost of unga.
Maize importers in Kenya have been struggling to access maize in the global market due to scarcity of the commodity.
Harsama confirmed that there is a maize shortage globally and local importers are going as far as Mozambique, Zambia and South Africa.
The PS said traditional maize import destinations for Kenya like Ethiopia, Zambia, Malawi, Tanzania and Uganda are currently experiencing low maize stock due to climate change challenges.
He added that the maize shortage is not only a Kenyan crisis but it is also being felt in regional and international markets.
"South Africa is the only country with maize stocks remaining in Africa and many countries are now scrambling for the commodity in South Africa. We are likely to have a challenge with maize arriving in time due to availability in the market," he said.
Millers have warned that a delay of maize imports could lead to an increase in the price of maize flour in the country. They said the current maize shortage in the country could lead to a price increase in maize flour.
Ken Nyaga, United Grain Millers Association chairman said a 90kg bag of maize has gone up to Sh6,000 from between Sh4,700 and Sh5,300 in February.
"There has been a problem in sourcing the commodity and the situation may get worse if the government does not act fast. Those traders and millers that have been licensed to bring in maize, should do so immediately to save the situation," Nyaga said.