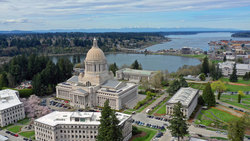 Global AgInvesting | 28 February 2023
Washington State Investment Board allocates $400 million across two farmland funds
By Lynda Kiernan-Stone
Washington State Investment Board (WSIB) has allocated a total of $400 million into a separate account with UBS Farmland Investors and a Homestead Capital USA Farmland Fund IV.
The capital was dedicated to the Olympic Sun separate account that was launched with a cornerstone investment of $100 million in 2013 for the purpose of investing in U.S.-based permanent crop and vegetable producing farming operations that are then leased back to operators.
Founded in 2012 in San Francisco, California, and with offices in Idaho, Illinois, and Arkansas, Homestead Capital has built and manages a vertically integrated portfolio of farmland across the U.S. that spans crops, lease types, operators, and regions.
Focused on investing and operating farmland throughout the Mountain West, Delta, Midwest, and Pacific regions of the United States, Homestead has curated a team led by co-founders Gabe Santos and Daniel Little that has a deep well of experience in agriculture, financing, farm management, farm acquisition, portfolio construction, and risk management.
Through an investment process that considers "labor, sustainable farming, and the environment", Homestead is mindful of "…issues that relate to climate change and the scarcity of water" through its diligence and management. Using a proprietary software platform for modeling asset returns that accounts for yields, soil quality, climate patterns, commodity prices, and other factors, Homestead is able to manage concentration risk at the portfolio level, according to the firm's website.
When asked about sustainability practices, co-founder Gabe Santos told GAI News in 2019, "The ones we employ are varied, depending on the type of farm we're investing in. For example, water efficiency; we can deploy capital to make irrigation systems more efficient. More precise allocation of water can enable us to change crop rotation to a more profitable crop. Other sustainable practices we can use include variable rate of application of fertilizer, no-till farming and the use of cover crops."
Homestead closed its first farmland fund in 2015 at $173 million with a portfolio of farms spanning 11 U.S. states producing 16 different crops, including cotton, rice, wheat, soybeans, tree nuts, apples, table and wine grapes, as well as citrus fruits.
Fund II followed, closing oversubscribed at more than double the size of Fund I at $400 million in November 2016. This fund followed the same trajectory as its predecessor, pursuing investments in both row and permanent crop farmland across the Mountain West, Delta, Midwest and Pacific regions of the country.
Fund III then closed at $596 million in Q4 2020, bringing total AUM beyond $1 billion at the time, and Fund IV is working toward a funding target of $500 million.
Likewise, UBS Farmland Investors has been investing in U.S. farmland assets on behalf of pension funds for more than 20 years.
In 2020, Jim McCandless, head of farmland, real estate, and private markets with UBS Asset Management, explained to Investable Universe that UBS farmland portfolio assets are diversified according to a 60:20:20 ratio – or 60 percent are commodity crops, and the remaining 40 percent is equally permanent and vegetable cropland.
With a strategic focus on ESG and sustainability, he went on to explain that all farmland assets held by UBS have been enrolled in Leading Harvest – a non-profit organization consisting of stakeholders across the agricultural value chain – companies that farm, own, and/or manage farmland, along with two environmental groups that together have created a new entity providing the first scalable, industry-wide universal sustainability standard that can be applied across all crops and geographies to address issues from climate change to biodiversity, and the resilience of cropland and communities.
"Consumers, investors and the supply chain have become increasingly interested in how their food is grown and sourced," Oliver Williams, senior managing director, global head of agricultural investments HNRG, and inaugural chairman, Leading Harvest, told GAI News in 2020.
"At the root of this interest is a strong desire for a product that is grown to meet the needs of today without jeopardizing future generations' ability to grow their food and meet their own needs. Yet current sustainability metrics vary widely across regions and operations."
"As the inaugural board chairman, I'm proud to be a part of an organization that both recognizes the hard work farmers do to practice sustainable agriculture and also brings greater transparency, adaptability and scalability to agricultural sustainability efforts."