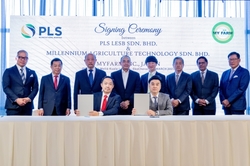 Executive Director and Group Chief Executive Officer of PLS Plantations Berhad Lee Hun Kheng (seated left) and Dulai Fruits Enterprise Sdn Bhd chief executive officer Eric Chan Yee Hong (seated right) pose for pictures after a signing ceremony between PLS Plantation Sdn Berhad and MYFARM Inc Japan at Innside Kuala Lumpur EkoCheras March 5, 2023. — Picture by Firdaus Latif
Malay Mail | 5 March 2023
PLS Plantations bags RM210m investment from Japan's MYFARM for Malaysian durian ops
By Syed Jaymal Zahiid
KUALA LUMPUR, March 5 — Japan's agritech company MYFARM Inc will inject RM210 million into PLS Plantations Bhd's large-scale durian cultivation project spanning over 1,000ha of land in Raub, Pahang, The Edge Markets reported today.
The investment, according to the business paper, marks the largest in durian plantations by a Japanese company.
PLS Plantations is headed by chairman Tan Sri Nazir Razak, who said the capital injection from the Japanese company will help the construction and plantation group realise a portion of its early investment in durian plantations.
"As you know, durian plantations have a long gestation period of five to seven years before generating any cash flow. From this partnership, we can monetise some of our early investment," he was quoted as saying at a press conference to announce the joint venture.
The joint venture and shareholders' agreement was signed between PLS Plantations' 51 per cent-owned subsidiary PLS-LESB Sdn Bhd, MYFARM and MYFARM's unit Millennium Agriculture Technology Sdn Bhd (MAT) today.
Under the deal, MAT will subscribe to a 49 per cent stake in JV company Akar Barat Sdn Bhd with the agreement to pay PLS-LESB up to RM181.8 million of the investment consideration.
PLS-LESB will be the majority stakeholder in the JV vehicle, with a 51 per cent stake, The Edge reported.
PLS Plantations is aiming to have an additional 10,000ha of plantation land for its cash crops in the next five years, Nazir said, which will depend on the group's potential to rope in partners.
The business paper said MYFARM will collaborate to boost PLS Plantations' technology at its durian farms. The technology transfer is also expected to spill over to local farmers and raise production and improve harvesting techniques, the companies said.
PLS Plantations executive vice-chairman Tan Sri Lim Kang Hoo said the JV partnership with MYFARM would pave the way for Japanese technology transfer and participation in Malaysia's long-term food security programme.
Lim holds a 73 per cent stake in the company via Ekovest Bhd.
"On a bigger scale, PLS Plantations would also want to tap on Japanese expertise in the agriculture sector to be part of the national food security measures," Lim was quoted as saying.
MYFARM operates one of the largest agricultural schools in partnership with Tokyo Agricultural University and has produced 2,300 graduates over the past 12 years.