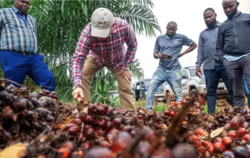 Staff of Fayus Nigeria Limited inspecting its oil palm developments valued in Ora, Owan East Local Government Area and Ewan-Isi in Uhunmwonde Local Government Area, Edo State, November 2022.
Tribune Online | 28 February 2023
3000ha oil palm plantation to create 5,000 jobs in Edo
As part of Edo State Government's expansion of oil palm revolution, Fayus Nigeria Limited has commenced the development of a 3,000-hectare plantation in Ugbeturu Community, Owan West Local Council, with a target of creating 5,000 jobs in the community at full capacity.
The project is captured under the Edo State Oil Palm Programme (ESOPP), rated as the largest oil palm development project in Africa. The ESOPP programme, backed by the Central Bank of Nigeria (CBN), is spearheading the development of over 100,000 hectares of land across the state.
The Acting Team Lead of ESOPP, Mr. Churchill Oboh, during a project monitoring exercise of Fayus Nigeria Limited oil palm concession, noted that the project will rightly position the state as a leading state in plantation development and oil palm production on the continent.
He added that community inclusiveness in the ESOPP programme is imperative, and all farmers whose farmlands were affected have been duly compensated.
According to him, "The communities are at peace with the investor and the state government because the communities were properly engaged and carried along in all the processes in line with the Free Prior and Informed Consent (FPIC) Guidelines developed for the state, and we have ensured that the farmers are duly compensated after the crop enumeration exercise."
While commending Governor Godwin Obaseki for the initiative, the Acting Team lead also added that the investment will create massive employment opportunities for the people, as an oil palm mill and refinery will be located in the community.