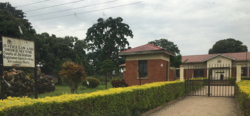 Kiryandongo Magistrate Court
Witness Radio | 13 February 2023
The criminal trial of two community land rights defenders and eight farmers kicks off tomorrow
The criminal trial of two community land rights defenders and eight farmers of Nyamuntende Village in Kiryandongo district for allegedly threatening violence against land grabbers' laborers is set to begin tomorrow.
Mulekwa David and Mulenga Jackson are both community land rights defenders in Kitwala sub-county, Kiryandongo district; and Kanunu Innocent, Musabe Steven, Munyankole Enock, Lokong Gabriel, Ntambala Geoffrey, Kagenyi Steven, Mukombozi Frank, and Kuzara Frank, all cattle farmers at Nyamutende village in Kiryandongo district were on 09th/02/2023 charged with three counts of threatening violence and remanded Kigumba prison.
Before being remanded to prison, the prosecution told the Court that the investigations were complete and ready to proceed with the trial with four witnesses.
The prosecution alleges that the accused persons on 01/02/2023 threatened to injure or assault or kill Wakoko Robert, Kilenda David, and Kato Francis. The trio is laborers of a land grabber who had been sent to plow the community's gardens using a tractor without compensation, consent, or finding an alternative settlement.
The expected witnesses in this case, are laborers of Somdium Limited, accused of forcefully evicting more than 1,000 households off their land to plant sugarcane plantations. The land is registered on Block 8, Plot 22, Nyamuntende village.
On the 8th of February, 2023, the Kiryandongo district police Muhangi Edison in the wee hours
raided the homes of different community members
and arbitrarily and violently arrested the community land rights defenders and cattle farmers.
Several got bodily injuries and wounds as a result of severe beating by Muhangi and his agents.
The trial kicks off on the 14th day of February 2023 at 9:00 am East African Standard time.