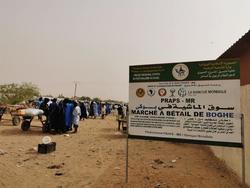 Boghé cattle market (Photo : Aidara)
African Agriculture Inc.| Feb 13, 2023
Michigan State University College of Agriculture and Natural Resources (CANR) partner with African Agriculture to bring training and expertise to Mauritania, West Africa
EAST LANSING, Mich. , Feb. 13, 2023 /PRNewswire/ -- Michigan State University (MSU) College of Agriculture and Natural Resources (CANR) has signed a letter of intent (LoI) to explore collaboration opportunities with African Agriculture Inc. , a US-based, Africa-focused corporation. MSU will explore training, research and technology transfer opportunities with farmers and students in Mauritania, West Africa.
Michigan State University was the first land-grant college in the United States and the model for the nation's land-grant system, leading advancements in agricultural and natural resources research, education and outreach. In 1855, the Agricultural College of the State of Michigan, now known as MSU, was founded to provide a practical education to all citizens regardless of social class. It was the first institution of higher learning in the United States to teach scientific agriculture and has educated students to become farmers, engineers, educators, scientists, entrepreneurs and leaders.
"CANR's commitment to agricultural advancement starts in Michigan, but it extends to working with farmers and households worldwide as they strive to make a living and provide nutritious food for their communities," said Dr. Kelly Millenbah, dean of the College of Agriculture and Natural Resources at MSU.
Under the terms of the LoI, MSU and African Agriculture, Inc. will explore site visits and stakeholder consultations as well as potential educational exchanges with students at ENFVA (Ecole Nationale de Formation et de Vulgarisation Agricole), an established agricultural education center in the city of Kaédi, Mauritania. Potential areas of collaboration to be explored include agronomy, soil science and animal science.
"Exploring collaborative solutions to advance environmentally sustainable agriculture, especially in light of climate change, not only at home but around the world is a critically important part of the MSU mission," said Dr. George Smith, director of MSU AgBioResearch.
African Agriculture, Inc., recently entered into a public-private partnership with the Government of Mauritania and the communities of Boghé (18 agricultural cooperative societies incorporating approximately 6,000 farmers, organized under GIE DYNN) in the Senegal River Valley for a phased commercial farming buildout up to $500 million of investment with the potential of over 500,000 hectares of arable land. Alan Kessler, CEO and Chairman of African Agriculture, Inc added, "Michigan State's vast global network and deep understanding of the livestock feeding complex will greatly enhance our ability to vertically integrate as a company and develop the body mass and nutritional content of animals to the over 100 million head of cattle in the Sahel. MSU and the state of Michigan have deep experience in understanding the relationship between animal feed, dairy and nutrition, and will greatly add to the knowledge base and template of our company for our expansion in West Africa."
Her Excellency Cisse Cheikh BOIDE, Ambassador of Mauritania to the United States of America, said, "This collaboration between African Agriculture, a US company, and Michigan State University is an example of how established United States public institutions can work collaboratively with the people of Mauritania to enhance tertiary educational access and transfer agricultural skills. Mauritania welcomes United States and private sector investment."
Ms. Aissata Lam, Director General of the Investment Promotion Agency of Mauritania (APIM) added, "the agricultural sector is one of the utmost priorities for us. The new PPP approach developed to add value for land owners is currently being implemented and the agreement signed between GIE DYNN and AA inc. is a great milestone. The partnership involves many aspects, including capacity building and technology transfer. We are very pleased to have MSU in the picture and are very much looking forward to starting this collaboration for the benefit of farmers, students and local communities".
African Agriculture, Inc., is a vegetation-based protein commercial farming platform beginning with alfalfa for dairy and beef cattle animal feed in Senegal. Currently African Agriculture, Inc., is building a vertically integrated cattle feed operation on 25,000 hectares, equating to over 750,000 tons of alfalfa annually on full production at the current run rate. Operational budgets have been based on 10 cuts per year, with 2.5 tons per hectare and 21% protein; however, based on excellent growing conditions and management expertise, the company expects to exceed the best conditions globally.
Scalability for the business is expected beyond Senegal to Niger (semi-arid), Mauritania on the other side of the river valley, and further into the Sahel and additional sub-tropical areas in Africa. The US-domiciled company has a highly experienced management team in commodity-related value creation, large-scale farming, agronomy, technology, operations and finance with additional high-barrier-to-entry resources, including academia (Louisiana State University and University of California-Davis), irrigation, agronomy, finance and machinery, as well as commercial offtake relationships. The corporate goal is to enhance farming productivity yields and hence boost food security in Africa and globally. While Africa holds over 60% of the world's remaining arable land, current food productivity at 340 million tons equates to approximately 4% of global 8 billion tons in annual production.
Michigan State University has been advancing the common good with uncommon will as a top global university for more than 165 years. MSU is a leading research university driving discoveries to address global challenges, educating the next generation of leaders, and partnering with public and private organizations and stakeholders globally. MSU has a long history of international educational cooperation and capacity building, extending the heritage of MSU as the premier land grant college. MSU is deeply committed to improving the quality of life of resource-poor and disadvantaged communities around the world. In 2021, MSU was ranked 105, 157, and 101 in global university rankings by Times Higher Education, QS World University Rankings, and U.S News & World report, respectively. Across the university, nearly 1,500 faculty engage in international activities (research, scholarship, instruction, training and outreach), with combined experience in 176 countries.
For further information, contact
[email protected]