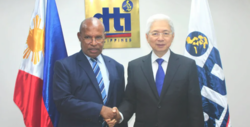 PNG's International Trade and Investment Minister Richard Maru
met with
Alfredo Pascal, the Secretary for the Department of Trade and Industry, in October 2022 where the two sides discussed the large-scale rice farming project.
The National | 31 January 2023

100,000 hectares for Central rice projects
More than 100,000 hectares of land in Central could be used for rice projects, says International Trade and Investment Minister Richard Maru.

Maru made the remarks following a visit by a group of Filipino rice investors to Central last week.

"Initial estimates from the trip, the Brown River area could mobilise 10,000 hectares for rice, Vanapa up to 40,000 hectares of logged out land flat land and Gabadi and outwards to Bereina and beyond another 100,000 hectares," he said.

"Combined with Rigo, Central could easily grow and feed the entire country with rice, if we use mechanised farming methods, drone irrigation and solar power to provide electricity.

"Papua New Guinea only needs 100,000 hectares of rice farms to produce the 400,000 tonnes we consume annually."

"If an agreement is reached between the Government which owns the Manumanu land at Gabadi, the Central government, Kairiku district development authority, Hiri Koiari development authority and impact communities, the project can begin this year.

"We will need only one year for the Government to recoup the K34 million it spent on the Manumanu land purely on economic returns."

"We must make use of thousands of hectares of unused State land all over the country to generate revenue and create employment and wealth for our citizens.

"The Manumanu land is one of such land."

Meanwhile, the Filipino delegation also met with Prime Minister James Marape and briefed him on their trip to Central.