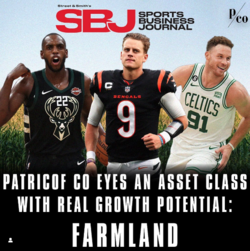 Global AgInvesting | 18 January 2023
Athlete investment platform Patricof Co. makes an initial investment in farmland
By Lynda Kiernan-Stone
New York-headquartered Patricof Co. was launched in 2018 as a proprietary and unique strategy able to leverage the privileged access to private deals afforded elite professional athletes.
Through its advisory services, Patricof Co. helps its athlete clientele develop the knowledge base, networks, and skills to grow into experienced and successful investors. Capitalizing upon this clientele roster, the firm is then able to manifest the impacts made possible by "athletes-as-shareholders at scale".
Since its launch, the platform has built up a clients base of nearly 200 athletes and has deployed more than $125 million to amass a portfolio of private equity investments in some of today's most successful brands including Bombas, Cholula, Daily Harvest, and SpaceX.
Historically the firm has focused its private equity investments in late-stage growth and buyout deals in the food and beverage, consumer internet and media, travel and hospitality, fashion and apparel, consumer health and beauty, and enthusiast brand sectors. And now, Patricof Co. has made its initial move into a new asset class – farmland.
A New Meaning to Field of Dreams
Made through an unidentified Midwestern company that sources and manages farm investments, this $5 million investment is the first in what Patricof Co. stated will be a broader farmland strategy that will ultimately include investments in four more U.S. farms.
Nearly two dozen athletes have backed this strategy including Boston Celtics forward Blake Griffin, Cincinnati Bengals quarterback Joe Burrow, and Milwaukee Bucks guard Khris Middleton.
"As a pro athlete, I'm pitched countless investment ideas and 'opportunities' all the time," said Middleton. "When it came to this specific deal that Patricof brought to me, I was attracted to it because of how different it was."
"Why farms?" Middleton continued, "But when I looked at the history of returns, especially how U.S. farms have performed over the last 30 years, including during bad times in the economy, the stability is what stood out. I'm always thinking about the long term when it comes to my wealth and how I can provide for my family after I retire. And this deal is a long-term deal. That's why I wanted to be part of it."
Patricof Co. noted that investing in farmland has long been favored by high-net-worth individuals such as Warren Buffet and Bill Gates due to their being government subsidized, cash-generating assets with low volatility or correlation to public markets.
Reflecting this, the firm cites data from PGIM Real Estate showing in 2020 farmland investments posted an annualized return of 12.3 percent over the prior 20 years, outpacing stocks, bonds, and commercial real estate investments over the same time period.
"I think of it as a really smart recession hedge for people who are learning to invest for the long term," said Mark Patricof, founder and CEO, Patricof Co.
"It provides really significant downside protection and the opportunity to create a long-term investment strategy that fits the profile of somebody who's young and can continue to make a lot of money and wants to be conservative with their investment strategy."
Patricof stated that the firm had been tracking the farmland investment space for two years before finalizing this initial investment in late 2022, but declined to expand upon what the final value of the portfolio will be.