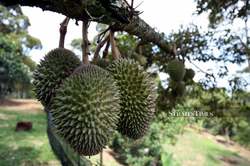 New Straits Times | 16 January 2023
PLS Plantations formed JV with Japanese companies to cultivate durian farming project
By Azanis Shahila Aman
PLS Plantations Bhd has partnered with Japanese investors to expand the durian plantation in Pahang. NSTP/MIKAIL ONG
KUALA LUMPUR: PLS Plantations Bhd has partnered with Japanese investors to expand the durian plantation in Pahang.
PLS Plantation's 51 per cent owned entity, PLS LESB Sdn Bhd, has executed a heads of agreement (HoA) to a joint venture and launch a large-scale durian cultivation project in Malaysia.
PLS LESB will partner with Japan's Millennium Agriculture Technology (MAT) and MyFarm Inc, Japan (MyFarm) to develop up to 1,000 hectares of durian plantation in Pahang.
The Japanese, through MAT, will assume up to 49 per cent of the joint venture partnership with the entirety of the joint venture company valued at RM371 million.
PLS Plantation, which is 73 per cent-controlled by Tan Sri Lim Kang Hoo via Ekovest Bhd, said the joint venture partnership would pave the way for Japanese technology transfer and participation in Malaysia's long-term food security programme.
"This is in line with PLS Plantation's vision in transforming into Malaysia's leading sustainable agrofood company," it said.
According to Lim, the JV will facilitate the transfer of Japanese technology and expertise in agriculture on a scale never seen before in Malaysia.
"It will boost PLS' core competencies as a leading producer of export-quality agriculture and aquaculture produce," said Lim.
MyFarm operates one of the largest agricultural schools in partnership with Tokyo Agricultural University and has produced 2,300 graduates over the past 12 years.
MyFarm's shareholders include Japan's National Federation of Agricultural Cooperative Associations, Tsumura & Co (a Japanese herbal medicine manufacturer listed on the Tokyo Stock Exchange), Nichiryu Nagase Co Ltd (a leading Japanese distributor of agricultural machinery and farm products), DCM Holdings Co Ltd (one of the largest home improvement businesses in Japan) and SB Technology Co Ltd (previously known as Softbank Technology Corp).
The Japanese investment, which is expected to be completed this year, will see the deployment of modern Japanese agricultural practices for planting "Musang King" durian species as part of the project.