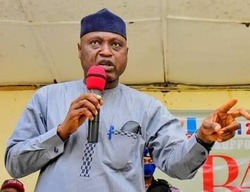 Gov. Biodun Oyebanji of Ekiti State
PM News | 15 January 2023
Ikun Dairy Farm: Ekiti pays N21m compensation to landowners
By Isa Isawade
The Ekiti State government has paid N21 million as compensation to 263 traditional land-owning families for the land it acquired for the establishment of Ikun Dairy Farm in Ikun-Ekiti, the Moba Local Government area of the state.
Mr Ebenezer Boluwade, the Special adviser to the governor on Agriculture and Food Security, made the disclosure on Saturday at Ikun-Ekiti, while presenting cheques to the beneficiaries.
The News Agency of Nigeria(NAN) reports that the Ikun Dairy Farm was established in 1980, with hundreds of fattened cows, as an integrated agro-allied farm to boost the economy of the state.
The farm spans 1,000 hectares of land.
Boluwade explained that the land was acquired by the government for the industrial development of the state.
"We assure the beneficiaries who are farmers, of the government's support such as the provision of necessary farm inputs to improve and increase crop yield in their new locations.
"We also assure them of employment creation to Ekiti citizens," he said.
He advised the beneficiaries to cooperate with the state government to actualise its set objectives for the development of the state.